Exclusive
Shaquille O'Neal's Ex-Con Former Employee To Testify Against Him In Lawsuit Filed By His Mistress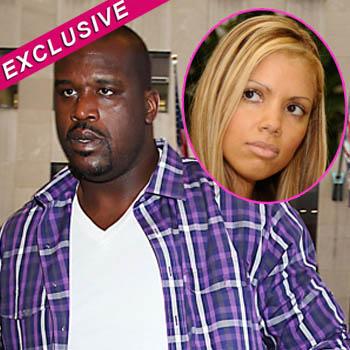 By Jen Heger - RadarOnline.com Assistant Managing Editor
The legal team of Shaquille O'Neal's former mistress, Vanessa Lopez, will be deposing the ex-NBA star's one-time employee, Shawn Darling, who is expected to assert that the legendary NBA superstar ordered him to spy on Lopez, RadarOnline.com is exclusively reporting.
But complicating the matter, Darling is a convicted felon with a lengthy criminal record -- an ex-convict who has been arrested or charged in more than 15 criminal cases in the Midwest. Among them, in 1999, Darling was sentenced to 32 months in a federal prison in Wisconsin for bank fraud and misuse of Social Security numbers.
Article continues below advertisement
EXCLUSIVE DOCUMENTS: Vanessa Lopez's Lawyers To Depose Shaq's Ex-Con Former Employee
As we previously reported, Lopez filed a lawsuit against O'Neal in Orange County, Florida.
Lopez claims Shaq started harassing her shortly after she told him she thought she was pregnant. She says the former NBA center initially accused her of sleeping with someone else and when she broke off their relationship she claims the threats began.
Shaq tried to get the lawsuit dismissed, but his motion was denied.
In court documents obtained by RadarOnline.com, Darling's deposition will take place on January 15, and it's expected to last for the entire day.
Darling was hired by Shaq in 2007 to work on various family projects until 2009, and the two men are now suing each other.
Shaq's camp contends that Darling is a disgruntled former employee and alleges that he tried to extort $12 million payment from the NBA star.
Article continues below advertisement
"Shawn Darling, a computer consultant engaged by basketball star Shaquille O'Neal to install and service a home theater and then service personal computer equipment, copied without permission thousands of emails and communications from Mr. O'Neal. Darling, an ex-convict with a long criminal record that he failed to disclose and hid from Mr. O'Neal, has demanded $12 million in exchange for not releasing Mr. O'Neal's personal and confidential emails and communications. When Mr. O'Neal refused to be extorted, Darling filed a lawsuit claiming "invasion of privacy and emotional distress," Shaq's attorney Benjamine Reid previously said in a statement.
Lopez's multi-count lawsuit against Shaq was filed in Miami Dade County in 2010, and it accuses O'Neal of racketeering, invasion of privacy, and intentional inflection of emotional distress. Darling's testimony during his deposition will be crucial to Vanessa's case because he alleged in his lawsuit against his former boss that he "has knowledge that O'Neal did access Vanessa Lopez's phone by bypassing the secuity system for the account and that O'Neal erased messages and changed Lopez's password...O'Neal knows that Darling not only has knowledge of his bad acts that might be used against him in litigation, but O'Neal also knows that Darling has evidence that shows he cheated on his former wife with many more people that just Vanessa Lopez."
Article continues below advertisement