Exclusive
EXCLUSIVE: Shaquille O'Neal's Ex-Mistress Claims Her Lawsuit Is The Weak Versus The Powerful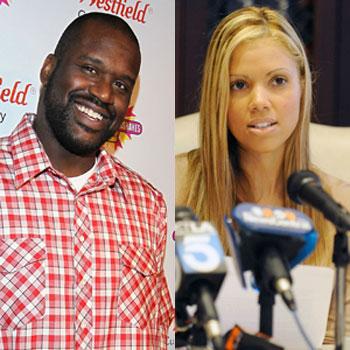 The woman who is suing Shaquille O'Neal for harassment has had her high-powered attorney Gloria Allred fire back at the basketball star's motion to dismiss her lawsuit, claiming his threats are: "of the large, powerful, and wealthy to the small, weak and unpowerful" RadarOnline.com can exclusively report.
Vanessa Lopez has claimed that Shaq harassed her through his sister and another man, Justin Zormelo, via menacing phone calls and text messages in the documents filed in a Florida court in March, exclusively obtained by RadarOnline.com.
Article continues below advertisement
Her response to O'Neal's motion to dismiss claimed that he had his sister and an associate "terrorize" her.
"O'Neal was angry," the documents state. "There were unconditioned threats to Lopez. O'Neal's threats to Lopez are of the large, powerful, and wealthy to the small, weak and unpowerful."
"O'Neal has family, friends, and employees to carry out his threats."
The documents also claim that Shaq carries guns stating: "O'Neal is a large, powerful, wealthy man and a professional athlete and that he carries firearms from time to time."
Lopez is portrayed as "a professional model with a small build, weighing less than 100 pounds, and lacking the physical power, wealth and connections of O'Neal."
The documents detail his alleged harassment, which was previously reported by RadarOnline.com and denied by O'Neal's alleged "henchman" Zormelo.
"After receiving numerous calls from O'Neal, Lopez told O'Neal that 'if you don't leave me alone I am going to tell Shaunie about us.'
Article continues below advertisement
"Within minutes, Lopez received a call from Ayesha Harrison, O'Neal's 6'6" sister. Harrison called Lopez leaving verbal and physical threats on Lopez's voice mail which threats included involving O'Neal's other sister, Latifah, 6'8", who lives down the block from Lopez. Lopez became very fearful of her own safety."
"At the end of September 2009, an unknown male caller told Lopez 'to watch her back.' In the twelve years prior that the Plaintiff had the telephone number, she had never received threatening, alarming or unusual phone calls.
"Quite the contrary, O'Neal then proceeded to hack into Lopez's text messages and voice mails without Lopez's knowledge or consent using some extremely sophisticated software. O'Neal not only knew the contents of private communications to and from Lopez, but also used spy technology to delete incriminating voice mails and text messages from Lopez's cell phone.
"Afraid that he could not control or trust Lopez, O'Neal text messaged an associate, Justin Zormelo, and told Mr. Zormelo 'dis is da numba shut dat bitch up!' providing Justin with Lopez's cellular phone number.
Article continues below advertisement
"Mr. Zormelo responded by texting to O'Neal, 'consider it done famo.'"
Lopez claims that the harassment started at the end of September 2009 when she told O'Neal that she might be pregnant and continued into December 2009, so she filed her complaint in January 2010.
She is asking for damages in an unspecified amount.
RELATED STORIES:
Exclusive: Shaq Calls Hacking Lawsuit "Complete And Utter Fabrication"