Exclusive
EXCLUSIVE: Shaquille O'Neal Accused Of Computer Hacking, Throwing Evidence In Lake, Says New Lawsuit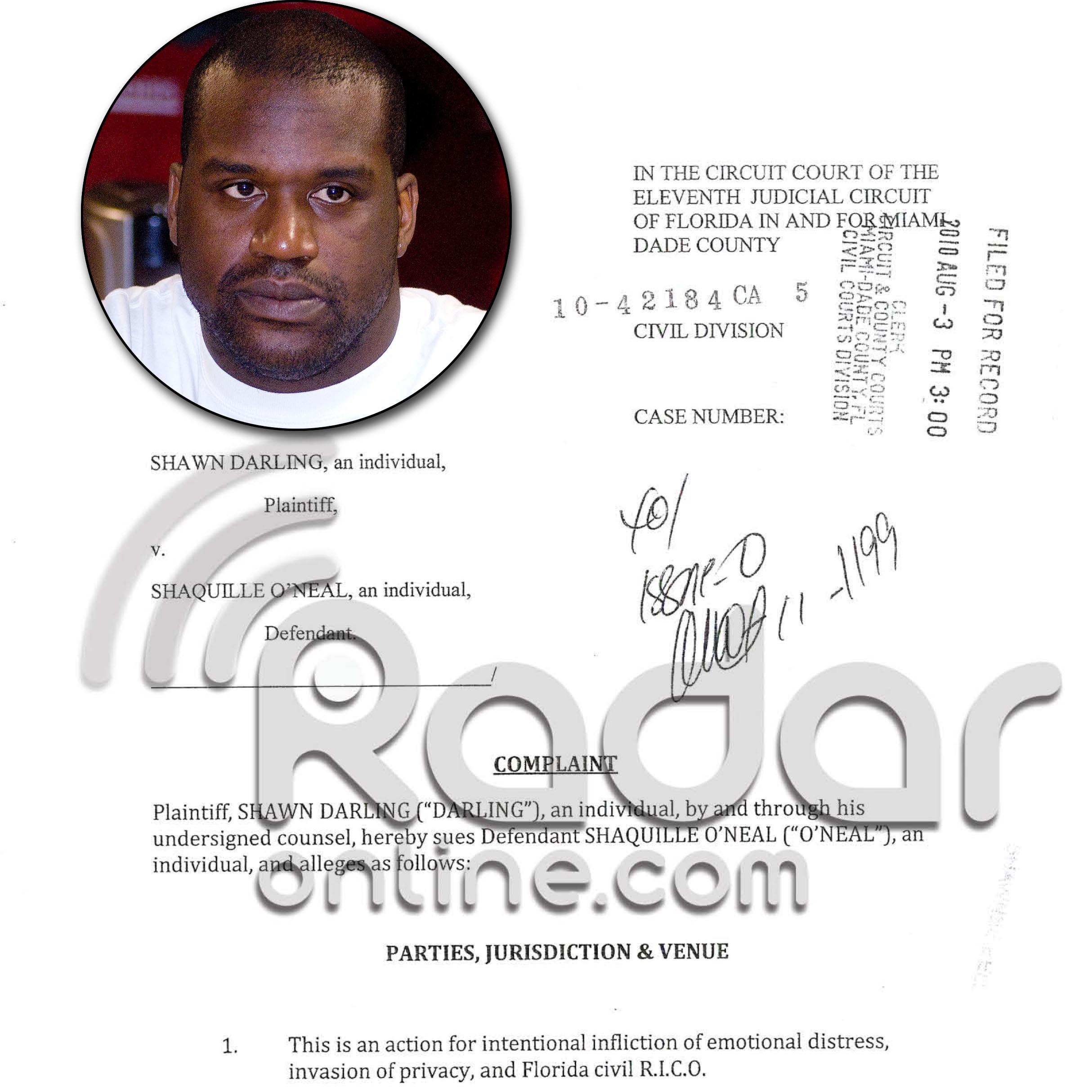 NBA star Shaquille O'Neal is at the center of an explosive new lawsuit accusing him of computer hacking, destroying evidence and indicating that he attempted to frame an employee by planting child pornography on his computer, RadarOnline.com is reporting exclusively.
EXCLUSIVE DOCUMENTS: Read The Shocking Lawsuit
Shaq's former employee Shawn Darling filed the suit for intentional infliction of emotional distress, invasion of privacy and civil R.I.C.O. (a racketeering charge) on August 3, in Miami-Dade County, Florida.
Article continues below advertisement
Here are some of the explosive allegations:
Shaq hacked into the voicemails and phone systems of Darling and Vanessa Lopez, a mistress who is currently suing O'Neal. He deleted Lopez's messages and changed her password.
O'Neal used his law enforcement contacts, both active and retired, to obtain restricted information about one of his mistresses, Alexis Miller, while he was involved in a legal battle with her.
Shaq threw a personal computer holding much of this evidence in the lake behind his home.
Shaq conspired with active law enforcement as well as ex-members of law enforcement to frame Darling for a criminal offense and destroy any evidence that Darling might have against O'Neal.
Darling says there is proof in the form of emails, text messages and photos that Shaq had multiple affairs while married and tried to keep that information from going public.
Darling, who has an extensive criminal background, told RadarOnline.com exlusively that his record didn't bother Shaq because "that was why he hired me."
Darling worked for O'Neal from 2007-2009 as his personal IT guy and claims he was originally hired to work on "different O'Neal family projects."
In August of 2008 Shaq was playing for the Phoenix Suns and Darling moved with him to work on O'Neal's house.
At the time, Shaq was having an affair with hip-hop singer Alexis Miller who ended up accusing him of harassment and stalking. Shaq later settled with Miller.
The lawsuit alleges, "O'Neal told Darling that Alexis Miller had obtained a restraining order and that O'Neal said could not remember what he sent to Miller by way of text messaging and E-mail."
Article continues below advertisement
According to the suit, Shaq asked Darling to retrieve every email and text message that he sent Miller-as well as all of Shaq's phone records-- so that he could be aware of what he was dealing with.
Darling says that after getting all of this information for Shaq, he then performed a "Defense Department type wipe of O'Neal's computer" at the basketball star's request.
According to the lawsuit, "O'Neal, along with his houseboy Joe Caballero, disposed of the computer in the lake behind O'Neal's house and gave Darling cash to buy another replacement I-Mac."
Lawyer Announces Vanessa Lopez Will Sue Shaq
Darling claims Shaq asked him to set up "a system where O'Neal would use Darling's accounts to communicate with others" and gave Darling permission to keep all of his electronic communication so that it would be preserved.
EXCLUSIVE VIDEO: Shaq Mistress Arrives In LA To Meet With Lawyer
In October, 2009, following the demise of Shaq's marriage to Shaunie O'Neal, Darling discovered he was having an affair with Vanessa Lopez. Darling reached out to Lopez, who told him that she thought O'Neal was trying to break into her voicemail, deleting messages and changing her passwords.
Article continues below advertisement
In the lawsuit, Darling says he found proof that Shaq was breaking into Lopez's phone system and told her about it.
Lopez, who is currently suing Shaq for harassment and is being represented by power attorney Gloria Allred, then told O'Neal that Darling was giving her information behind his back, according to the lawsuit.
Vanessa Lopez Distraught Over Alleged Treatment By Shaq
At that point, Darling claims Shaq sent him threatening messages, tried to break into his voicemail and enlisted the help of an active Arizona detective to master a computer program that would allegedly allow him to frame Darling for possession of child pornography so that Shaq could confiscate the computer holding evidence of his affair with Lopez.
In emails quoted as evidence in the lawsuit, O'Neal's agent wrote on December 15, 2009, "got it he will be stopped n pay for this."
O'Neal wrote back "ok but in the meantime o boy needs to be put in jail, we have way too many law enforcement connections to let a criminal try to get over on mine o mine, we don't need any distractions as we deal with Harvard guy, shoe line guy, restaurant guy, real estate guy and everything we are planning to do after basketball life..."