Exclusive
Shaquille O'Neal Allegedly Had His Sister Threaten His Ex-Girlfriend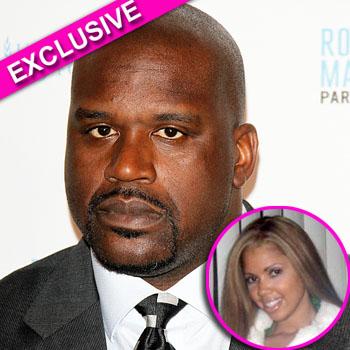 By Jen Heger - RadarOnline.com Assistant Managing Editor
Former NBA star Shaquille O'Neal allegedly had his sister, Ayesha Harrison, call and threaten his ex-girlfriend, Vanessa Lopez, and told the petite beauty to watch her back, RadarOnline.com is exclusively reporting.
As we previously reported, Lopez filed a lawsuit against O'Neal in Orange County, Florida, for intentional infliction of emotional distress and assault. Lopez claims Shaq started harassing her shortly after she told him she thought she was pregnant. She says the former NBA center initially accused her of sleeping with someone else and when she broke off their relationship, she claims the threats began. Shaq tried to get the lawsuit dismissed, but his motion was denied.
Article continues below advertisement
According to court docs filed in Orange County, Lopez claimed "Shaquille O'Neal arranged for his sister, Ayesha Harrison, to call and threaten me. She told me to watch my back because they know where I live and said they would disseminate lies about me on the Internet...Ayesha Harrison called and left two threatening voicemails in September 2009."
EXCLUSIVE DOCUMENTS: Shaq's Ex Claims His Sister Threatened Her
Lopez asserts that "I live every day fearing for my safety. I now have extreme anxiety because of Shaquille O'Neal's campaign to intimidate and silence me. Since the incidents began I have been plagues by anxiety and depression for which I have taken medication. I lost valuable time with my dying mother because I was too frightened to leave my home and visit her in her final days."
In the suit, Lopez claims she was the victim of a number of scary incidents -- most notably a threatening text that Shaq allegedly sent to a friend of his saying, "dis is da numba shut dat b*tch up!"
Article continues below advertisement
Lopez says the friend responded with a text saying, "consider it done famo."
The friend then allegedly jumped on a plane to Orlando, Florida, and texted Lopez before calling her on her cell, sounding "menacing and sinister."
Meanwhile, Lopez's famed attorneys, Gloria Allred & Nathan Goldberg, have filed a motion asking that trial be televised.
The trial has been set for for March 25, 2013. It's expected that both O'Neal and Lopez will testify. A pretrial conference is scheduled for March 18, 2013.