Jailed Beauty Jodi Arias Won 'American Idol' Style Caroling Contest In Prison Before Death Penalty Trial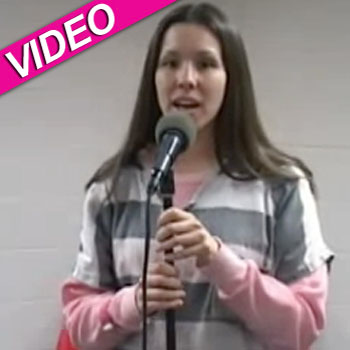 By Debbie Emery - RadarOnline.com Reporter
The murder trial of sexy suspect Jodi Arias is expected to be the most watched court proceedings since the Casey Anthony case, and the 32-year-old seems determined to become a celebrity from the alleged grisly crime.
Far from keeping a low profile during the almost five years she has been in prison awaiting trial for the June 2008 killing of former boyfriend, Travis Alexander, Jodi even entered an American Idol style caroling competition two Christmases ago, and RadarOnline.com has video of her performance.
Article continues below advertisement
Dressed in prison stripes with a pink top underneath and her long hair back to its natural brown, Arias belted out an impressive performance of O' Holy Night to beat out 50 other inmates in the December 2010 competition that was held by "America's Toughest Sheriff," Joe Arpaio, at the Maricopa County jail, according to AZFamily.com.
Her prize was a Christmas stocking full of goodies and a turkey dinner for herself and her cellmates.
The 2012 holiday season was no doubt more stressful for the convict, whose high profile murder trial began on Wednesday with prosecutors determined to make her the fourth woman on Arizona's death row.
As RadarOnline.com previously reported, California native Arias is accused of shooting Alexander, a 30-year-old motivational speaker and legal insurance salesman from Mesa, in the face and then stabbing him 27 times and slitting his throat from ear to ear.
Article continues below advertisement
The couple met at a conference in Las Vegas in September 2006, and even after they broke up, Arias moved from California to Arizona and began allegedly harassing him and his new girlfriend. During the first week of June 2008, Alexander told friends that he suspected that Jodi had hacked into his Facebook account and allegedly said that he told her he wanted her to stay out of his life forever.
However, on June 4 she went over to his house and they had sex and took explicit photos of each other, according to court records. After Travis' body was found, a digital camera was discovered in the washing machine in the downstairs laundry room. It appeared as though it had been run through the wash cycle and also contained photos of Alexander's body in the shower.