Love Triangle Ends In Murder-Suicide After Aspiring Olympic Rower Denied TRO Against His Girlfriend's Obsessed Ex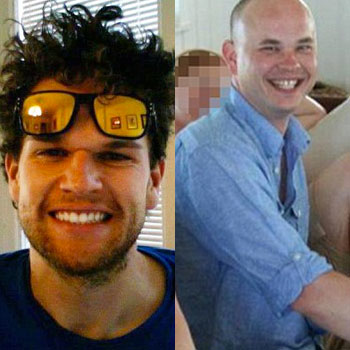 By Debbie Emery - RadarOnline.com Reporter
A competitive rower who dreamed of competing in the Olympics was shot dead by a jealous killer who was obsessed with the woman he was dating, after he warned a judge that he was being stalked, harassed and threatened.
William Schnittman, 25, filed a request for a protective order against Darrell Wilson with the Oklahoma County Court on December 4, but it was denied because he failed to submit all of the necessary paperwork, reported NewsOK.com.
Article continues below advertisement
He "told me that his problems were my fault, that he was going to kill himself, and that his death was on my conscience," Schnittman wrote to the court, adding that Wilson told him he would 'take care of me' before he killed himself."
Tragically on Friday, Wilson, 36, shot and killed Schnittman, 25, then abducted and sexually assaulted the ex-girlfriend, and led cops on a chase before killing himself.
Oklahoma County Special Judge Lisa K. Hammond, who denied Schnittman's plea for protection on the grounds that he did not first report the aggressive stalking to the police, could not be reached for comment by The Oklahoman in the wake of the murder.
The request for a protective order did include an October 28 police report concerning Wilson's arrest on a complaint of driving under the influence. On that night, according to the petition, Wilson showed up at the woman's house, kicked in the door and threatened Schnittman.
Article continues below advertisement
The unnamed female victim also filed a petition for a protective order against Wilson on the same day as Schnittman that stated he had become obsessive and made attempts to kill himself in front of her four children, which was approved.
Originally from Bloomfield Hills, Michigan, Schnittman and rowed for the state's national championship squads in 2008 to 2010, before moving to Oklahoma City after graduation to train with the National High Performance Center.