Mom's Heartbreaking Video Goes Viral After Her Death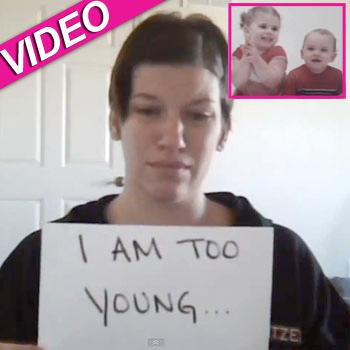 By Debbie Emery - RadarOnline.com Reporter
A dying mother's plea for help is being heard beyond the grave thanks to a video that went viral two months after she taped it and eight days after her death.
Jennifer Johnson, 30, of Cape Coral, Florida, recorded the heart-wrenching four minutes of footage in October using flashcards to tell the story of her rare heart condition, reported Fox 4 News.
As she fought back the tears, the mother-of-two revealed her fear of leaving behind her "heartbeats," and expressed that she was "too young," to die, while appealing for donations for serious dental work that she needed before her heart surgery could take place.
Article continues below advertisement
Johnson was diagnosed with a rare form of heart disease called hypertrophic obstructive cardio myopathy, which hardens the heart restricting blood flow, when she was engaged and five months pregnant with her second child. She had a pacemaker put in shortly after but months later doctors realized that one of the wires had become loose and she needed open heart surgery to fix it.
"She had a very big heart," said her husband, Robert Johnson. "She was a fighter and ready to tackle this head-on."
Jennifer was inspired by a viral YouTube video posted by Ben Breedlove, 18, who died last Christmas from the same condition but made a YouTube video with flashcards before his death that attracted 7 million views.
"She was very inspired by his story and it touched her," said her late husband, who is now left to raise their two young children, Mikayla, 3, and 18-month-old son Malykai, on his own.
The Florida mom's video raised just more than $440 which helped with the cost of the dental surgery.
Article continues below advertisement
She was cleared for the heart surgery on December 14 but suffered complications and died three days later.
youtube