Madonna Badger's Ex Husband Contemplated Murdering Her & Committing Suicide After Christmas Fire Tragedy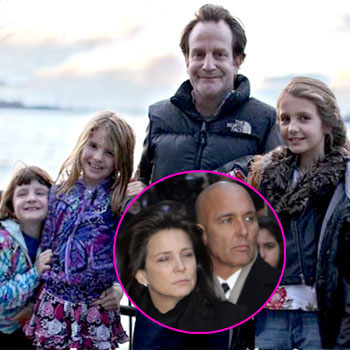 Article continues below advertisement
The horrifying incident occurred after Borcina disposed of ashes from an extinguished fire in a paper bag which he left on top of a plastic container in a back room of the house. Within hours, they ignited and the resulting blaze destroyed the $1.7 million home belonging to Madonna, killed their three children and also took the lives of her parents Lomer Johnson, 71, and his wife Pauline, 69.
Mr. Badger, who is understandably still tormented by his daughters' deaths, said that he has yet to return to his commercial director job and two months ago met the Dalai Lama during a trip to India with his girlfriend and cried his heart out. He says that he then spread some of the girls' ashes on a hill and says: "Three white dogs came suddenly to sit with (us), beautiful, not mangy."
Badger still hasn't forgiven Borcina for the accident – and described meeting him in the street and refusing to hug him.
Badger has since set up the Lily-Sarah-Grace Fund in memory of his daughters, designed to support low-income schools with arts grant funding. But, after generating a disappointing $1,200 in a fundraiser at his home, he was left disheartened with the project.
As RadarOnline.com previously reported, earlier in the year, Madonna Badger appeared on TODAY where she said the paper bag of ashes did not seem dangerous at the time.
Article continues below advertisement
She said that Borcina had placed them on top of a plastic bin in a mudroom, and they caught her eye as she made her way up the stairs of the mansion in the early hours of Christmas morning.
"I remember thinking to myself, 'I should put that outside. I should put that outside,'" she told host Matt Lauer.
"Then I remembered thinking, 'No, but I watched him put his hands through it.'"
Just an hour later, Badger said she remembers being woken up by smoke, and not fire alarms, which she says she had believed were installed throughout the home.
Madonna spoke of having to make an impossible decision – did she save her children or her parents?
"So I had to decide, 'Do I go in and save them? Or do I go save my children?' And so I ran the other way to save my children," she said.
However, when she tried to get to her daughter Grace's room, she recalled: "I opened that window and the smoke that hit me, it was just the blackest, like an ocean. There was twirling and there was embers and all kinds of stuff in it.
Article continues below advertisement
"I kept trying to hold my breath and put my head in. And I couldn't get in," adding that she couldn't see the girls inside.
"I'm just screaming for somebody to help me. It was the blackest smoke I've ever seen. If I could have seen them, I would have gone in.
"It's impossible to describe how it is that you can't go in and save your own children, but I couldn't get through that smoke. I couldn't."
RELATED STORIES: