Madonna Badger's Heartbreaking Interview: 'I Couldn't Get Through That Smoke ... I Couldn't'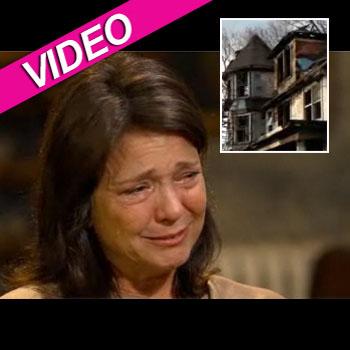 Madonna Badger, the New York fashion executive whose parents and three children died in a Christmas morning blaze at her Stamford, Connecticut home, recalled the details of the hellish incident in a heartbreaking interview with Matt Lauer on Thursday's Today.
"It was silent: It was the scariest silence," she said of the fire, noting she'd climbed out of a window before coming to a grim decision.
Article continues below advertisement
"The windows were my mom and dad's windows," Madonna said. "So I had to decide, 'Do I go in and save them? Or do I go save my children?' And so I ran the other way to save my children."
"I scrambled up the scaffolding to get to daughter Grace's window. And I opened that window and the smoke that hit me, it was just the blackest, like an ocean. There was twirling and there was embers and all kinds of stuff in it. And I kept trying to hold my breath and put my head in -- and I couldn't get in."
She said she saw her boyfriend Michael Borcina emerge from a back window and try to call the girls to safety, to no avail.
"It was the blackest smoke I've ever seen," said Madonna, who attempted suicide in the wake of the disaster. "If I could have seen them, I would have gone in. I mean, it's impossible to describe how it is that you can't go in and save your own children.
"But I couldn't get through that smoke -- I couldn't."
Article continues below advertisement
Watch the video on RadarOnline.com
Asked how she mustered up the ability to deliver the eulogy for her children less than two weeks after the tragedy, she said, "I don't know, I don't know. I think it was all God's grace. I have no idea."
As we previously reported, the fire in the $1.7 million, century-old Victorian house killed Lily Badger, 10; her 7-year-old twin sisters Sarah and Grace; and their grandparents Lomer Johnson (A Saks Fifth Avenue Santa Claus) and Pauline Johnson. All of the victims died from smoke inhalation, except for Lomer, who fell through the roof in a heroic effort to rescue his granddaughters.
Matthew Badger Suing City Of Stamford For Christmas Fire That Killed His Daughters
Insurance Company Refuses To Pay Out For Madonna Badger Christmas Fire
Father Of Badger Girls Who Died In Christmas Blaze Opens Up About Heartbreaking Loss