Insurance Company Refuses To Pay Out For Madonna Badger Christmas Fire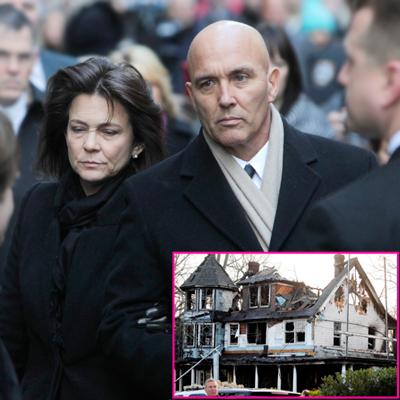 An insurance company is refusing to pay out for the tragic Christmas morning blaze that killed five family members of New York fashion executive Madonna Badger, and RadarOnline.com has the details for you.
Utica First Insurance claims in a lawsuit filed in Manhattan Supreme Court that Badger's contractor boyfriend, policy holder Michael Borcina, repeatedly lied about details related to the house's construction and his business, Tiberias Construction Inc., over the past five years.
Article continues below advertisement
Among their grievances include the number of workers Borcina employed; the nature of his work; and income of his contracting business.
"We are still studying the complaint," Borcina's lawyer David Grudberg told the NY Post, "and we will respond appropriately in court."
As RadarOnline.com previously reported,the fire in the century-old Victorian house killed Lily Badger, 10; her 7-year-old twin sisters Sarah and Grace; and their grandparents Lomer Johnson (a Saks Fifth Avenue Santa Claus) and Pauline Johnson.