No Criminal Charges To Be Filed In Christmas Fire That Killed Madonna Badger's Family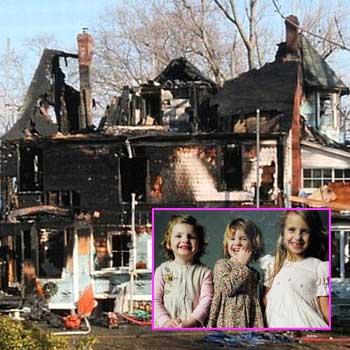 By Debbie Emery - RadarOnline.com Reporter
After tragically losing her parents and children in a Christmas morning fire, Madonna Badger learned on Friday that no criminal charges will be filed in connection with the deadly blaze.
As RadarOnline.com has previously reported, the fire in the century-old Connecticut house killed Lily Badger, 10; her 7-year-old twin sisters Sarah and Grace; and their grand parents Lomer Johnson and Pauline Johnson. All of the victims died from smoke inhalation, except for Lomer, who fell through the roof in a heroic effort to rescue his granddaughters.
Article continues below advertisement
Only former Calvin Klein art director Badger and her boyfriend Michael Borcina escaped alive.
Stamford State's Attorney David Cohen said Friday that precautions were taken and that while in hindsight they were insufficient, they did not rise to the level of criminal negligence, reported the Boston Globe.
"When such a horrific event occurs, it is only natural that those related to the victims and the public in general want to hold someone responsible for what is otherwise an inexplicable accident,'' Cohen said.
''I am aware that many have emotionally judged this circumstance differently. That is understandable. There is no way that I could begin to conceive of the depth of loss by the Badger family.''
Cohen explained that so much was unknown or in dispute in the case that it was impossible to make a definitive conclusion.
The girls' father, Matthew Badger, filed a law suit last month suing the city of Stamford for failing to properly oversee construction of the house where his daughters died and allowing the children to "live in a fire trap."
Article continues below advertisement
Cohen admitted that the investigation had been "hampered to some degree" by city officials, as the remains of the house were destroyed the day after the fire who feared it might collapse and cause more injury.
''It is my opinion that there is insufficient evidence to establish that either Mrs. Badger or Mr. Borcina were aware of and consciously disregarded a risk that there was a possible live ember in the ash that could result in a catastrophic fire,'' he concluded.