Madonna Badger: My Boyfriend Didn't Start The Fire That Killed My Family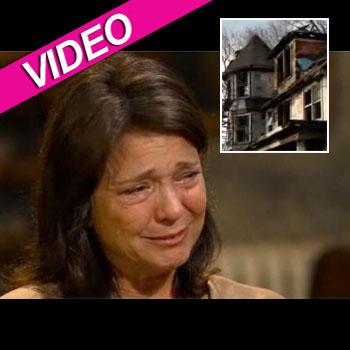 Madonna Badger, the New York fashion executive whose parents and three girls died in a Christmas morning blaze at her Stamford, Connecticut home, says she's not sold on the reason authorities gave for the blaze -- that her boyfriend Michael Borcina put fireplace embers into a paper bag, triggering the disastrous fire.
The fire was "most likely caused by the disposal of fireplace ash,'' according to a report from Stamford State's Attorney David Cohen, though Madonna says she doesn't buy it.
Article continues below advertisement
"I don't believe that the ashes caused the fire,'' Madonna said in an interview with NBC's Matt Lauer. "So I don't believe that Mike is responsible for starting the fire.''
Madonna, who tried to kill herself following the disaster, said one of the reasons she doubts the official diagnosis is because Stamford officials had the structure demolished before forensic investigators could inspect the property.
"I had an interview with the police and the first question they asked me was, 'Why did you have your house torn down?''' Madonna said. "I said, 'I didn't have my house torn down. What are you talking about?' None of those investigations happened, because nobody knows where any of the pieces are.''
Madonna said she might have inadvertently fed fire authorities the wrong reason for the calamity, telling them in hysterics, "It must have been the ashes … there must have been embers."
Article continues below advertisement
Pressed for what she felt could have instigated the deadly incident, she said "the electrical system in the house was from I don't know when," as she was in the midst of a renovating the system.
"It was all ball and wire and something -- all porcelain knobs from the 1940s, or something. So I was making that house safe. That's what I thought.''
Madonna said she'd eventually like a formal reason for the fire "in order to somehow find some peace.
"To honor them with the truth, you know?'' she said. "I believe they deserve that. I have to live with them being gone every single day.
Watch the video on RadarOnline.com
As we previously reported, the fire in the $1.7 million, century-old Victorian house killed Lily Badger, 10; her 7-year-old twin sisters Sarah and Grace; and their grandparents Lomer Johnson (A Saks Fifth Avenue Santa Claus) and Pauline Johnson. All of the victims died from smoke inhalation, except for Lomer, who fell through the roof in a heroic effort to rescue his granddaughters.
Article continues below advertisement