Madonna Badger's Devastation Over Xmas Fire, Thought She Was 'Going Nuts' After Having Visions Of Lost Daughters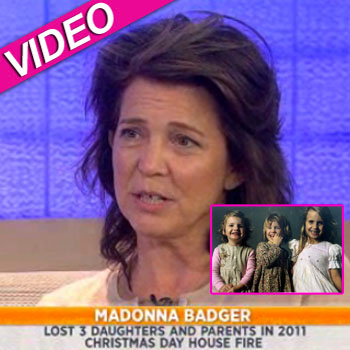 By Debbie Emery - RadarOnline.com Reporter
Almost a year after the horrific Christmas Eve fire that wiped out her family after claiming the lives of her three children and parents, Madonna Badger says she still talks to the little girls when she closes her eyes at night.
"I've seen my children in my dreams," the devastated mom told Matt Lauer during a heartbreaking interview on Thursday's episode of TODAY. "When I pray, I see my children. Lily came to me very early on and said, 'Don't worry, Mommy, I'm right there in your heart and I love you.'
Article continues below advertisement
"Once when I was having a level 10, the worst sort of crisis, (where it) feels like blood is coming out of my eyes, Sarah came to me in the mirror and she said, 'Mommy, there's nothing to be afraid of. Everything is going to be OK.'"
As RadarOnline.com previously reported, a blaze sparked by yule log embers in the century-old Connecticut house killed Lily, 10; her 7-year-old twin sisters Sarah and Grace; and their grandparents Lomer Johnson and Pauline Johnson. All of the victims died from smoke inhalation, except for Lomer, who fell through the roof during a heroic effort to rescue his granddaughters.
Rather than being a comfort though, Badger admitted that the vivid visions of her children troubled her at first and made her think she was going crazy. "Honestly, I thought I was delusional. I thought I was a little nuts," she confessed.
What finally made her believe the visions were real was the book Proof of Heaven, by Dr. Eben Alexander, which as RadarOnline.com has previously revealed, details the formerly skeptical neurosurgeon's near-death experience while in a coma and makes a strong case for existence of the afterlife.
Article continues below advertisement
In the immediate aftermath of the deadly fire, Badger admits that it was a struggle to go on - she even attempted suicide - and felt immense guilt whenever she smiled or felt an ounce of happiness.
"I'm shocked that I'm doing OK, but I'm doing really well,'' she told Lauer, as the anniversary of the devastating incident approaches. "I don't feel that way (anymore). I mostly don't feel that way because when I do feel happy, when I do feel joyful, it's when I kind of feel the presence of my children and my mom and dad the most."
While her immediate family was lost in the fire, a large network of extended family and friends has been there to help her deal with the tragedy. A group of more than 100 people, some holding a huge sign of support for Badger with numerous signatures on it, was gathered in Rockefeller Plaza on Thursday.
Seeking a change of scenery to distance herself from the disaster, Badger is currently living in Little Rock, Arkansas, where she said she is surrounded by warmth and support. "These people have showered me with so much love and given me hope," said the fashion executive. "I never felt judged. I always felt like they were there for me through a million cards and texts and emails and dropping into my house."
Article continues below advertisement
Unable to avoid the holiday season completely while in the U.S., Badger said that she is planning to create a "Santa Claus-free zone" in Thailand at an orphanage for young girls and take them toys that previously belonged to her children.
"Every day is hard – Christmas Day, the first birthdays, Mother's Day, Easter," she said. "I'm going to pray and meditate and be with my kids and love them and do the very best I can."
As previously reported, Madonna's ex-husband Matthew Badger also expressed the depths of his grief following the fire in a recent interview with New York Magazine, where he confessed that he not only contemplated taking his own life but also killing Madonna and her contractor boyfriend Michael Borcina, whom he holds responsible for the blaze.
"I thought that it was perfectly normal," Badger said about her ex-husband's controversial comments. "I would've felt the same way. I don't judge Matthew's grief. I don't judge the journey that he's on, and in fact I'm incredibly proud of him for what he's done with the Lily Sarah Grace Fund."