There IS A Heaven! Harvard Neurosurgeon Claims Proof Of The After-Life Filled With 'Puffy Pink Clouds'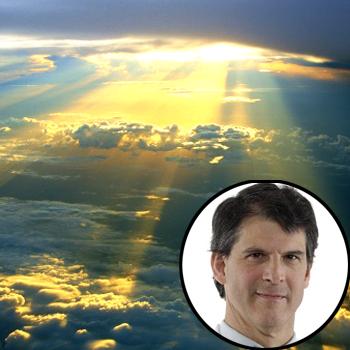 By Debbie Emery - RadarOnline.com Reporter
Many people believe steadfastly in the existence of heaven but beyond deep-rooted faith it has never been scientifically proven – until now, according to a formerly skeptical neurosurgeon.
While he doesn't claim to have met God or seen angels playing harps, he says there were butterflies and beautiful women!
Dr. Eben Alexander was a successful academic teaching at Harvard University Medical School when he was struck down with near fatal meningitis in 2008 that caused him to rethink his logical belief that heavenly out-of-body journeys all had solid scientific explanations.
Article continues below advertisement
"The brain is an astonishingly sophisticated but extremely delicate mechanism. Reduce the amount of oxygen it receives by the smallest amount and it will react," was his logical argument.
However, after his disease plunged him into a coma at the Lynchburg General Hospital in Virginia for a week while E. coli bacteria penetrated his cerebrospinal fluid and began eating his brain, Alexander "experienced something so profound that it gave me a scientific reason to believe in consciousness after death," he told Newsweek in an new in-depth interview.
"For seven days I lay in a deep coma, my body unresponsive, my higher-order brain functions totally offline." revealed Alexander. "Then, on the morning of my seventh day in the hospital, as my doctors weighed whether to discontinue treatment, my eyes popped open."
As his body lay in a coma, "My brain-free consciousness journeyed to another, larger dimension of the universe: a dimension I'd never dreamed existed."
Article continues below advertisement
Miraculously, the neurosurgeon who had been trained to hunt out logical answers said he discovered a "new world: a world where we are much more than our brains and bodies," and his account is very similar to countless people before him, although claims it has a unique quality to it.
"As far as I know, no one before me has ever traveled to this dimension (a) while their cortex was completely shut down, and (b) while their body was under minute medical observation, as mine was for the full seven days of my coma," said Alexander.
"My near-death experience, however, took place not while my cortex was malfunctioning, but while it was simply off," he explained. "There is absolutely no way that I could have experienced even a dim and limited consciousness during my time in the coma… much less the hyper-vivid and completely coherent odyssey I underwent."
The scientist went on to describe a scene more akin to fantasy, with "big, puffy, pink-white clouds that showed up sharply against the deep blue-black sky. Higher than the clouds—immeasurably higher—flocks of transparent, shimmering beings arced across the sky, leaving long, streamer-like lines behind them," he said.
Article continues below advertisement
Rather than birds or angels, they were "advanced higher forms" that were "booming a glorious chant."
His experience got stranger still when a beautiful woman with high cheekbones, deep-blue eyes, and golden brown tresses came along for a ride on the wings of millions of butterflies, and the former cynic claims she gave him a speechless message, "You are loved and cherished, dearly, forever… you have nothing to fear."
Alexander went on to pose questions to a silent wind that blew through and each time, "the answer came instantly in an explosion of light, color, love, and beauty that blew through me like a crashing wave," until he came across a black orb that was a kind of "interpreter."
While he is well aware that many will assume he was delusional, the Harvard medic claims the event is as real to him as his marriage or the birth of his two sons, but is adamant that "the theory that the brain, and in particular the cortex, generates consciousness and that we live in a universe devoid of any kind of emotion, much less the unconditional love that I now know God and the universe have toward us," is drastically incorrect.
Article continues below advertisement
"What happened to me destroyed it, and I intend to spend the rest of my life investigating the true nature of consciousness and making the fact that we are more, much more, than our physical brains as clear as I can, both to my fellow scientists and to people at large."
Rather than dismissing all his scientific training, he is combining his spiritual and scientific views. "I'm still a doctor, and still a man of science every bit as much as I was before I had my experience. But on a deep level I'm very different from the person I was before, because I've caught a glimpse of this emerging picture of reality," said the self-described Christian-in-name-only.