Terminally Ill Bank Manager With Brain Cancer Wins Right To Die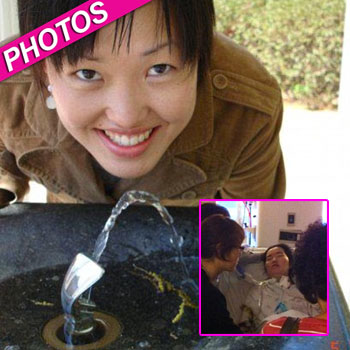 By Debbie Emery - RadarOnline.com Reporter
Terminally ill, tethered to breathing tubes and paralyzed from the neck down, Manhattan bank manager Grace Sung Eun Lee has finally gotten her one wish granted.
"I want to die," struggled out the 28-year-old, who is at the center of a moral and legal battle between her devoutly religious parents who believe suicide would condemn her to hell and doctors trying to fulfill her request, reported the New York Daily News.
Article continues below advertisement
After the emotional stand-off that pitched religious beliefs of Korean Christian church against the right to die, a judge on Friday ruled that Lee can pass on peacefully and have her life support machine turned off.
As her lawyers battled in court over recent months, the subject of their wrangling who had moved from Seoul as an eighth-grader could barely blink her eyes after being diagnosed with brain cancer last fall.
Before then she was a vibrant, successful, professional working as a financial manager at Bank of America and training to run the New York City Marathon, when a month before the race she was struck down by a deadly tumor that doctors found in her brain stem.
Radiation and chemotherapy helped her regain her strength but then she took a downturn and in September suffered a seizure and was put on a ventilator with a breathing tube – given months or even weeks to live.
Article continues below advertisement
Thus began the tug of war between her parents, who wanted her to be sent to a nursing home and their daughter desperate to die.
Judge Thomas Phelan finally decided that Lee is competent to make her own decisions despite being on several medications, including morphine for pain and Ativan for anxiety. "My heart goes out to the family," Phelan said in court.
"I feel your sorrow, I feel your pain, and I wish certainly that your daughter will recover and should recover, although that is unlikely... I need to vacate the temporary restraining order and let the things move through their other natural course and put Miss Lee in the hands of God."
The Lees appealed right away, and the Appellate Division reinstated the temporary restraining order. The tubes will remain in place until a panel of judges weighs in.
"We earned some extra days," said her mother, Jin-ah Lee, 58. "Some extra time."
Terry Lynam, a spokesman for North Shore-LIJ Hospital Systems, said the hospital couldn't comment on the case, citing patient confidentiality.
But he added, "In all end-of-life cases, we abide by the patient's wishes."