Heartbreaking Moment When Terminally Ill Cancer Patient Comforts Her Doctor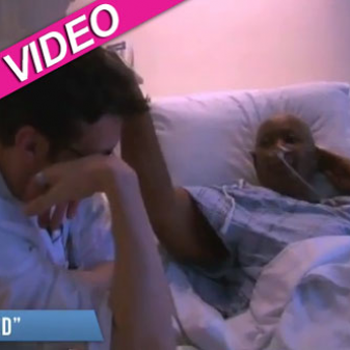 By Debbie Emery - Radar Reporter
Sometimes it is harder to give bad news than to receive it, and that was certainly true for one caring doctor.
New York trauma surgeon Dr. Sebastian Schubl broke down in tears when he had to tell a stomach cancer patient that her surgery was unsuccessful after a "string of cancer" was found in her riddled body, and the touching moment was caught on film for ABC's show NY Med.
Article continues below advertisement
The dashing young surgeon at NewYork-Presbyterian had assured the 75-year-old named Aldred that she was going to be OK just moments before she went into the operating theater, and she ended up turning the tables and comforting him when he had to deliver the surprising bad news.
"I know you love me, right?" the elderly woman teased him. "I do," he replied. "Kind of a lot. You're the sweetest."
Dr. Schubl's gutsy patient, who has raised eight children alone after the premature death of her husband, went into motherly mode as she comforted the young surgeon who had been determined to save her life.
"I told her, 'Everything's gonna be fine. We're gonna fix you today.' And I really believed that," said Sebastian while Aldred was recovering from the surgery, but once she was under anesthetic he discovered that there was no hope for her.
Dr. Schubl is currently an attending trauma surgeon at Jamaica Hospital in Queens.
For the past eight weeks, the reality medical show NY Med has followed life at the Columbia and Weill Cornell Medical Centers at the prestigious NewYork-Presbyterian Hospital to "document the mayhem and the miracles that occur daily in these world class facilities."