Jim Bob And Michelle Duggar Hang Out With Their Pal Kirk Cameron!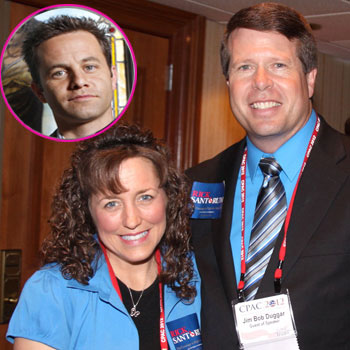 Article continues below advertisement
"I heard that Ben's Chili Bowl is one of President Obama's favorite places to go, it's one of our favorite places to go, we have that in common," Jim Bob said about their connection with the President.
Kirk said it had been four years since he'd seen the deeply religious family. "The last time I saw the Duggars was at the San Antonio International Christian Film Festival."
Kirk has weighed in frequently on conservative political issues, recently supporting Rep. Todd Akin after his  controversial "legitimate rape" statement but he apparently isn't as famous anymore as the Duggars are.
"We walked in and people recognized us and one lady asked if she could get a picture with Jim Bob and I and she handed the camera to Kirk Cameron," Michelle recalled about their visit.
Kirk happily snapped the picture but it wasn't until Jim Bob told the woman that he starred in the sitcom Growing Pains that she finally recognized him.
Fun fact: Kirk starred in Growing Pains from 1985 to 1992. Only 4 Duggar Kids were alive during its TV run.