Kirk Cameron Defends Rep. Todd Akin In Wake Of 'Legitimate Rape' Furor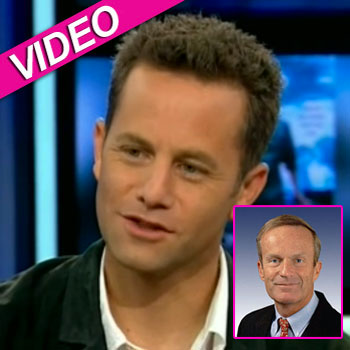 Mike Seaver is throwing screwballs again.
Kirk Cameron, who shot to fame playing the signature role on the 80s sitcom Growing Pains, is defending Congressman Todd Akin in the wake of his controversial comments about "legitimate rape."
As RadarOnline.com previously reported, during an interview over the weekend, Rep. Akin, a Senate Republican hopeful, said that "women don't get pregnant from legitimate rape because their bodies shut down." 
Article continues below advertisement
Kirk told CNN's Starting Point Tuesday the embattled Missouri politician "clearly is a pro-life advocate, and for that, I respect him.
"He said that he misspoke and that he misphrased something and that he apologized."
Cameron, the featured actor to Leonardo DiCaprio's supporting role on Growing Pains, said he's accepted the politician's apology because he understands how the limelight can cause words to be twisted around.
"I'm the kind of person that believes that I would like to be evaluated by my entire career and my entire life, not two words that I would misspeak and then later apologize for," he said. "So he's in a tough spot."
Kirk continued, "By watching the entire video, I get the sense there that this is a guy who is defending life and he wants to go to all lengths he can to protect the life of the unborn. And I think that's the message that comes through when I watch his video."
Article continues below advertisement
Former Child Stars Razz Kirk Cameron In Hilarious Ad
Kirk Cameron On Gay Firestorm: 'I Love All People. I Hate No One'