Kirk Cameron Apologizes For Anti-Gay Remarks: 'It's My Life's Mission To Love All People'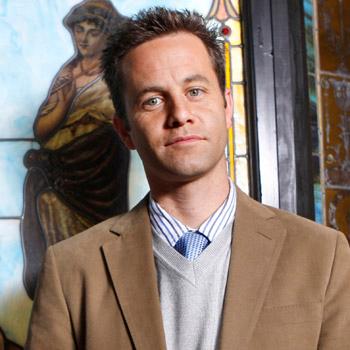 By Debbie Emery - RadarOnline.com Reporter
True to the unspoken rule regarding any Hollywood celebrity embroiled in a scandal, Kirk Cameron apologized on Tuesday for the anti-gay comments he made to Piers Morgan on his CNN show last week.
"I spoke as honestly as I could, but some people believe my responses were not loving toward those in the gay community. That is not true. I can assuredly say that it's my life's mission to love all people," the Growing Pains star said in a crisis statement to ABCNews.com.
Article continues below advertisement
As RadarOnline.com previously reported, the 41-year-old former child star told Morgan on Friday, "I think that it's… it's… it's unnatural. I think that it's…it's detrimental, and ultimately destructive to so many of the foundations of civilization," he said about homosexuality.
On the subject of gay marriage, Cameron added, "Marriage is almost as old as dirt, and it was defined in the garden between Adam and Eve. One man, one woman for life till death do you part. So I would never attempt to try to redefine marriage. And I don't think anyone else should either. So do I support the idea of gay marriage? No, I don't."
Despite his mea culpa, it was clear from his next comments that Cameron still stands by his original stance.
"I should be able to express moral views on social issues," he went on to say, "especially those that have been the underpinning of Western civilization for 2,000 years — without being slandered, accused of hate speech, and told from those who preach 'tolerance' that I need to either bend my beliefs to their moral standards or be silent when I'm in the public square."
Article continues below advertisement
"I believe we need to learn how to debate these things with greater love and respect. I've been encouraged by the support of many friends (including gay friends, incidentally)," he concluded.
In wake of Cameron's controversial comments, Tracey Gold, his former on-screen sister, went out of her way to express her support of gay marriage by posting a message on Twitter, RadarOnline.com previously reported.
"I am a strong supporter of the #LGBT Community, and I believe in equal rights for all. #NOH8 #LOVE," Gold wrote on Sunday.
A slew of other celebs voiced their disgust at Kirk's statements on the social networking site, including Modern Family star Jesse Tyler Ferguson, who wrote: "The only unnatural thing about me being gay is that I had a crush on Kirk Cameron until about 24 hours ago."
"I want to thank Piers Morgan for his response to what he wud say to HIS child if (s)he came out: "Great, as long as you're happy," tweeted Debra Messing.
Article continues below advertisement