Kristen Bell Echoes Angelina Jolie; Won't Marry Dax Shepard Until Gay Marriage Is Legal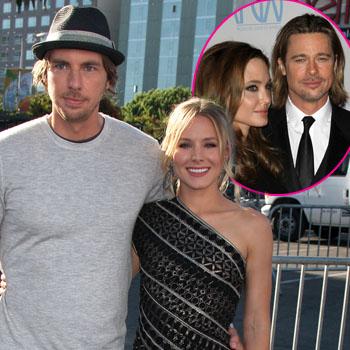 Article continues below advertisement
"The reason we're not rushing to get married is because I don't feel appropriate taking advantage of a right that's denied to my best friends. That's why we've been so hesitant," she said.
"Dax and I have talked about it a lot, and this issue is very important to both of us. We're just standing up for what we believe in. Period."
Last October Heroes star Zachary Quinto professed he is gay during an interview with New York Magazine.
"Zach came out when he was ready, he did it for his own very specific reasons, and I'm wildly proud of him," Bell said.
"He didn't come to me for counsel about that, but Zachary needs no encouragement from anyone. He has known exactly who he is since the day I met him… Zach has always been sexy to me, even though I knew he was never interested in me. It doesn't make him any less sexy, onscreen or off."
Article continues below advertisement
Bell starred in the gay cult hit Burlesque in 2010 with Christina Aguilera and Cher and calls it a "love letter to the gay community."
"I love that it's become a guilty pleasure, especially among gay people. Of course, Christina Aguilera and Cher are also very vocal in their support of the gay community, so we're all over the moon that they've celebrated the movie. Truth be told, it was really a love letter to the gay community in many ways," she said.
Kristen Bell Strips Down Into Her Bra And Panties In Racy New Show