Runs In The Family! Kirk Cameron's Sister Comes Out In Support of Controversial Chick-Fil-A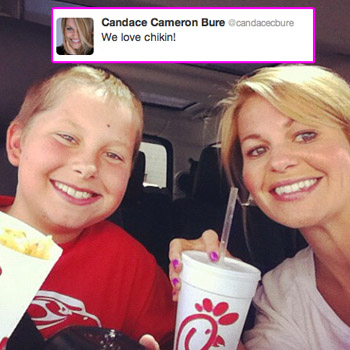 Article continues below advertisement
The 36-year-old is the younger sister of Growing Pains alum and outspoken Christian activist, Kirk Cameron, who famously gave an outrageously homophobic speech when he appeared on Piers Morgan's show in March.
"I think that it's -- it's -- it's unnatural. I think that it's -- it's detrimental, and ultimately destructive to so many of the foundations of civilization," Kirk said about homosexuality.
"Marriage is almost as old as dirt, and it was defined in the garden between Adam and Eve. One man, one woman for life til death do you part. So I would never attempt to try to redefine marriage. And I don't think anyone else should either. So do I support the idea of gay marriage? No, I don't."
Kirk was subsequently slammed for his speech by everyone from GLAAD to actress Fran Drescher and actor Mario Cantone.
And now it's the popular fast food joint Chick-Fil-A that's facing a boycott after their CEO, Dan Cathy, told the Baptist Press, "We are very much supportive of the family — the biblical definition of the family unit."
"Can anyone imagine that Jesus would denounce and decry two men or two women who have fallen in love, have promised to live in a faithful, monogamous lifelong intentioned relationship and now seek the civil status and the church's sacrament of marriage? I cannot."
Article continues below advertisement
Candace is married to former NHL player Valeri Bure and they have three children together. She often speaks at churches across the country and is a spokesperson for National House of Hope, a Christian organization for teenagers.
Already facing backlash for her photo on Twitter, one follower wrote: "It really worked for your brother when he 'tried' to make a statement didn't it? Yep, thought so. #fail #homophobia."