Fran Drescher Officiates Same-Sex Wedding, Calls Kirk Cameron Confused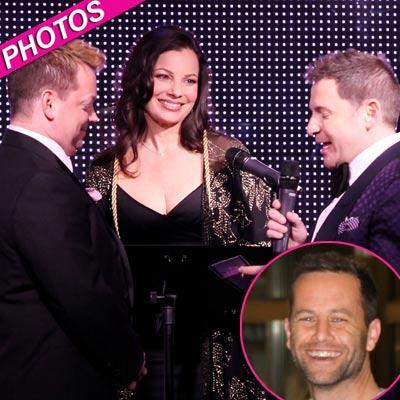 Fran Drescher presided over the "I do's" at a same-sex wedding ceremony at New York's XL nightclub Tuesday, just a day prior to the season two premiere of her TV Land hit, Happily Divorced, and we've got the photos for you right here on RadarOnline.com.
Drescher is an avid public supporter of same-sex marriage, and has personal ties to the issue, as well: she was married to her high school sweetheart Peter Marc Jacobson, who came out as an openly gay man after they split. (They remain happily divorced, pun intended.)
Article continues below advertisement
Never one to hold back, Drescher shot back at the recent homophobic sentiments made by Growing Pains star Kirk Cameron in a chat with Piers Morgan last week.
"I think that he's confusing our country, which is a country that separates church from state, with a religious dictatorship, and that he should reexamine what it means to be an American," she told Queerty.
As we previously reported, Cameron told Morgan on Friday, "I think that homosexuality is … it's… it's unnatural. I think that it's … it's detrimental, and ultimately destructive to so many of the foundations of civilization.
"Marriage is almost as old as dirt, and it was defined in the garden between Adam and Eve. One man, one woman for life till death do you part. So I would never attempt to try to redefine marriage. And I don't think anyone else should either. So do I support the idea of gay marriage? No, I don't."
Cameron later backpedaled some in a statement to ABCNews.com, explaining "I spoke as honestly as I could, but some people believe my responses were not loving toward those in the gay community That is not true. I can assuredly say that it's my life's mission to love all people."