Fran Drescher's Gay Ex Husband Peter Marc Jacobson's Horrific Black Eye Explained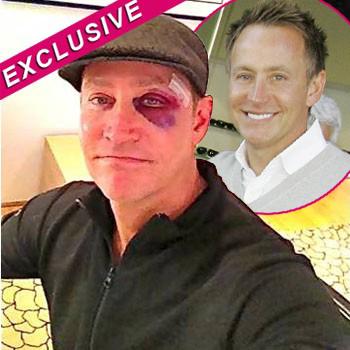 By Alexis Tereszcuk - Radar Senior Reporter
Fran Drescher's ex-husband is sporting a terrible black eye, but don't worry, he wasn't a victim of anything other than his own wet floor.
Peter Marc Jacobson, the Nanny's ex husband who came out of the closet after their marriage ended, exclusively told RadarOnline.com how he got the awful shiner.
"It's nothing that glamorous," Peter said. "I was in the shower and I did not put a mat out and I got out and slipped, hit my face and fractured my wrist."
Article continues below advertisement
The 54-year-old said that it was a pretty bad fall. "I think I blacked out, when I woke up I was a mess."
However, he said he's going to return to work on Friday on Happily Divorced, his hit show starring his ex-wife.
"Fran is hilarious," he said. "This season will have some wonderful guest stars like Morgan Fairchild. And Peter will be dating some, it is a fun season."
He said that he has been so encouraged by all the positive feedback he gets from fans who relate to his announcement that he is gay after 20 years of marriage.
"We've heard only good stuff from men and women who have gone through what we went through. I heard from a very young girl the other day who was depressed after coming out to her parents and she said she wanted to kill herself. I reached out immediately to her and encouraged her to contact The Trevor Project and she called them and texted me the next day to tell me she was ok. If I can help just one person, see that they're ok and just like everyone else, then that's a good thing."