Ellen DeGeneres 'Happy' Prop. 8 Overturned, Responds To Boycott Efforts Of One Million Moms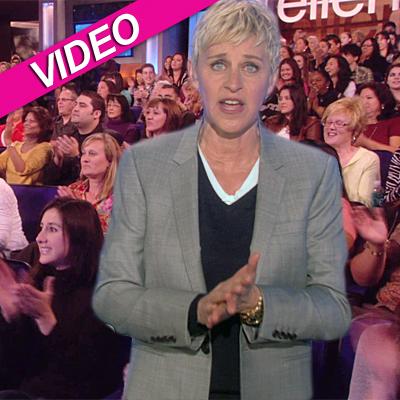 Ellen DeGeneres praises the overturning of the ban on same-sex marriages in California, and shoots back at a conservative group's efforts to have her fired as a JC Penney spokeswoman because she is gay, on Wednesday's edition of The Ellen DeGeneres Show.
First, DeGeneres said she was happy to see Proposition 8 -- which banned same sex marriages in California -- declared unconstitutional by a three-judge panel of the 9th U.S. Circuit Court of Appeals Tuesday in San Francisco.
Article continues below advertisement
"I'm sure the people who oppose it will try to appeal it, but it's a step in the right direction, so I'm happy," said DeGeneres, who married wife Portia De Rossi in August 2008, during the roughly five-month span same-sex marriages were legal in the Golden State.
DeGeneres then addressed the recent uproar from a conservative group called One Million Moms, who've called a boycott of JC Penney -- after the department store signed her to an endorsement deal -- on the grounds that she is gay.
"Normally I try not to pay attention to my haters, but this time I'd like to talk about it because my haters are my motivators," she said. "This organization doesn't think I should be the spokesperson because I'm gay. For those of you who are just tuning in for the first time, it's true: I'm gay. I hope you were sitting down.
She continued, "They wanted to get me fired and I'm proud and happy to say that JC Penney stuck by their decision to make me their spokesperson.
Article continues below advertisement
She said the controversy continued into last week, when One Million Moms posted the following message on their Facebook page:
"By jumping on the pro-gay bandwagon, JC Penney is attempting to gain a new target market and in the process will lose customers with traditional values that have been faithful to them over all these years. The majority of JC Penney shoppers will be offended and choose to no longer shop there."
DeGeneres addressed their statements in order: She said that "being gay or pro-gay isn't a bandwagon. You don't get a free ride anywhere. There's no music. And occasionally we'll sing 'We Are Family' but that's about it.
Watch the video on RadarOnline.com
"Secondly, they said a majority of JC Penney shoppers will be offended and not shop there anymore," she said, before reading a series of positive Facebook messages from supporters, including one that praised the retail outlet for standing their ground with a pack of "bullies."
Article continues below advertisement
DeGeneres concluded, "I usually don't talk about stuff like this on my show but I really want to thank everyone who is supporting me. If you don't know me very well. If you're just watching maybe for the first time or you're just getting to know me, I want to be clear ...
"Here are the values I stand for: I stand for honesty, equality, kindness, compassion, treating people the way you'd want to be treated and helping those in need. To me, those are traditional values. That's what I stand for -- I also believe in dance!"