'Family Values' Group Demands JC Penney Fire Ellen DeGeneres; GLAAD Fights Back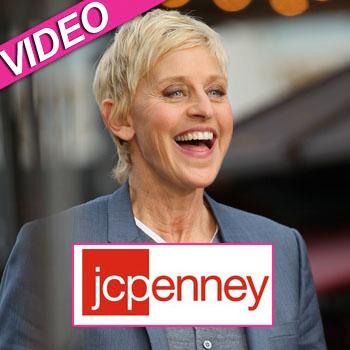 By Debbie Emery - Radar Reporter
Ellen DeGeneres was excited to announce her partnership with JC Penney last week, but some people are far less happy about the union and even calling for the talk show host to be fired by the fashion giant, RadarOnline.com has learned.
The group known as OneMillionMoms.com, a project of the American Family Association, told its supporters to petition against Ellen being named the new spokesmodel for the chain store and demand that she be replaced by someone not openly gay.
Article continues below advertisement
"Funny that JC Penney thinks hiring an open homosexual spokesperson will help their business when most of their customers are traditional families," reads a statement on the site, which claims more sales will be lost than gained by the move.
"Degeneres is not a true representation of the type of families that shop at their store. The majority of JC Penney shoppers will be offended and choose to no longer shop there."
Luckily DeGeneres has a strong supporter on her side, challenging the bigoted boycott.
GLAAD (Gay & Lesbian Alliance Against Defamation) has jumped into the ring to defend the former Emmys host and is calling for community members and supporters to tell JC Penney that they made the right choice after all.
"While designated hate groups try to start 'culture wars,' it's clear that a vast majority of Americans today support Ellen as well as their LGBT friends and family members," Herndon Graddick, Senior Director of Programs and Communications at GLAAD wrote in an e-mail statement to RadarOnline.com.
Article continues below advertisement
"Selecting an out performer who has inspired and entertained millions, is not only a smart business practice, but a reflection of how LGBT Americans today are an integral and valued part of the fabric of our culture."
When Ellen told her talk show audience about her new gig last month, she revealed that it wasn't the first time she had worked for the store.
"One of my first jobs ever was working at the JC Penney in Louisiana in ladies' apparel. It was the 70s so if you were looking for tube tops or flared trousers then I was your girl. This is a full circle moment because I am excited to announce my partnership with JC Penney," she said, while promising "big changes" at the company.