Melissa McCarthy: 'Oh My God, You're Meryl Streep!'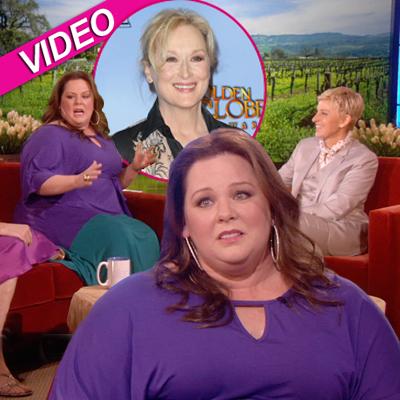 Yes, stars get starstruck too, sometimes.
Oscar-nominated Bridesmaids actress Melissa McCarthy shares with Ellen DeGeneres two tales of mingling with the A-listers in an interview scheduled to air Thursday.
The Emmy Award winning Mike & Molly star put her humorous twist on chats she had at this year's Golden Globes with the preeminent Hollywood power couple -- Brad Pitt and Angelina Jolie -- and one of the most revered actresses of the generation in Meryl Streep.
Article continues below advertisement
She said of Brangelina: "They're so nice and chatty and really bubbly. Finally, I got a little weird and I was like, 'You have to stop for a minute, because it's a lot visually to take in ... they just kind of laughed," McCarthy told Ellen, who's joined by special co-host Jimmy Kimmel.
"I said, 'No, really it is a lot visually to take in! She's like weirdly glowing, she's so beautiful -- he's kind of cute too," the Plainfield, Illinois native said.
Watch the video on RadarOnline.com
As if a chat with the world most famous and glamorous duo wasn't enough, McCarthy said she noticed "somebody pulling on her hand and I hear, Melissa, Melissa! And I turned around and she said, Hi, I'm Meryl."
McCarthy said upon seeing Streep -- a longtime idol -- "literally, like my brain snapped in two ... and then I really didn't know what to say.
"I just kept going, 'Oh, my God. You're Meryl Streep! And she was chatting like a normal human being. And I said, 'Oh my god. I'm sorry -- I thought over the years so many things if I ever got to meet you what I would say -- this is not it,'" she said. "And, she goes, 'Oh my God, don't even worry about it.'
Article continues below advertisement