Ricky Gervais: 'I Don't Think I Was Nasty At Last Year's Golden Globes'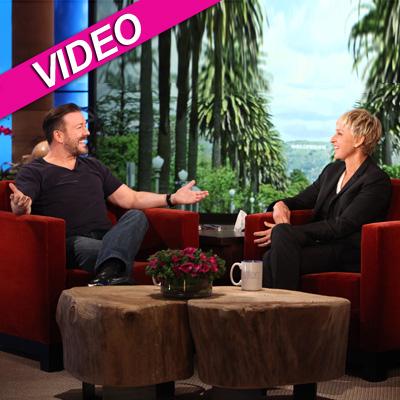 A-listers, assume the crash position.
Ricky Gervais, appearing on The Ellen DeGeneres Show Thursday, said that he didn't think his much-maligned performance hosting last year's Golden Globe awards came off as nasty, adding that his audience "wasn't a room full of wounded soldiers" but "the richest, most privileged people in the world!"
The British creator of The Office irritated many in attendance at the show last year with an assortment of digs at Hollywood's elite: He made references to Robert Downey Jr.'s past drug problems, Charlie Sheen's ongoing chaos and The Tourist's poor critical reception. He really turned up the heat by praising the performances of I Love You, Phillip Morris stars Jim Carrey and Ewan McGregor as "two heterosexual actors pretending to be gay.
Article continues below advertisement
"So, the complete opposite of some famous Scientologists, then," he said to boos. "They're not here."
Gervais, 50, tells Ellen Thursday, "I knew what I was doing ... it's the same as stand up.
"I know where the gasps are going to come. I know when the laughs are going to come … I knew all that," he said. "I didn't think the press would rip me for it … I mean you usually have to kill someone to get that many column inches. They were still talking about it, so I was shocked at the reaction."
Watch the video on RadarOnline.com
He said, again, he didn't think his jokes that night were relative lightweights compared to the tawdry fare of his onstage routine.
"If they saw my stand-up their heads would explode ... people say is there anything you shouldn't joke about? I don't think there is. I just think it depends what the joke is. Comedy comes from either a good or a bad place and I was just teasing them, ya know."
Article continues below advertisement