The Brit Is Back! Ricky Gervais Confirmed As Golden Globes Host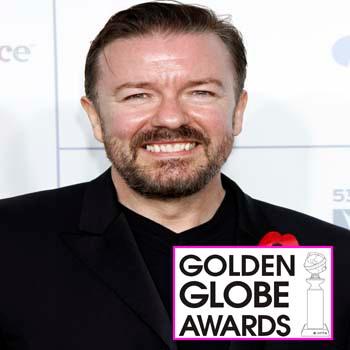 Despite last year's controversial appearance, it was announced Wednesday that Ricky Gervais will be hosting next year's Golden Globes awards.
It will be Gervais' third time in the hot seat, having hosted the past two years, amid criticism for his put-downs and jokes aimed at some of Hollywood's biggest names.
The Globe's website states: "After weeks of rumours it's finally official—Ricky Gervais will be back to host the Golden Globes for a third year.
Article continues below advertisement
"The Hollywood Foreign Press Association voted for the controversial British comedian's return after meeting with NBC official Doug Vaughn."
As RadarOnline.com previously reported, Golden Globes chief, President of the Hollywood Foreign Press, Philip Berk, slammed the Brit's performance at the 2011 show, telling the Hollywood Reporter that Gervais "definitely crossed the line" with his often outrageous jokes and comments.
"He definitely crossed the line," Berk said. "And some of the things were totally unacceptable.
"Any of the references to individuals is certainly not something the Hollywood Foreign Press condones."
Some of the "references to individuals" that Berk objected to included digs at Charlie Sheen, Angelina Jolie, Johnny Depp and Tom Cruise.
"It's going to be a night of partying and heavy drinking -- or as Charlie Sheen calls it, breakfast," Gervais said at the opening of the show, before recalling the timeline of Sheen's October rampage in New York. "That was a Monday... what did he do New year's Eve?"
Article continues below advertisement
Gervais really turned up the heat though by praising the performances of I Love You Phillip Morris stars Jim Carrey and Ewan McGregor as "two heterosexual actors pretending to be gay.
"So, the complete opposite of some famous Scientologists, then," he said to boos. "They're not here."
And of course, Gervais couldn't make it through the monologue without mentioning his favorite target, Mel Gibson.
Prior to announcing actress Scarlett Johansson, Gervais said she's "beautiful, talented and Jewish, apparently... Mel Gibson told me that, he's obsessed!"
Article continues below advertisement
As RadarOnline.com previously reported, Depp poked fun of their "feud" in a hilarious viral video.
The premise of the clip is that Depp and a talent agent are meeting Gervais and his writing partner Stephen Merchant.
After putting his cigarette out in Gervais' drink, Depp mentions he "actually remembers Gervais from the Golden Globes."
When Gervais asks him what he's been doing, Depp says: "I'm fine, man. Just doing another film that's going to make loads of money, probably a lot more money than any film you've ever made. And you?"
Gervais shoots back: "Just writing -- I write and direct all my own stuff ... I'm sorry, have I done something to offend you?'
Depp shoots back: "What do you mean? Like trashing me in front of 200 million people at the Golden Globes?"
"That was a while ago," Gervais says. "They were jokes, Johnny."
The Golden Globes will be held on January 15 at the Beverly Hilton Hotel.
RELATED STORIES: