Welcome Back Billy! Crystal Announces He's Hosting The Oscars (For 9th Time!)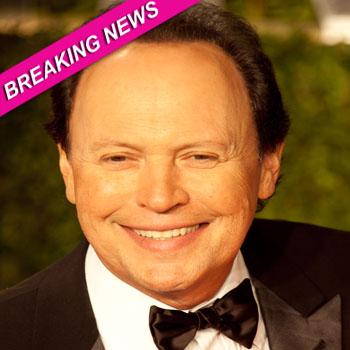 Following the resignation of Eddie Murphy Wednesday, Oscars stalwart Billy Crystal is stepping in to save the day, announcing Thursday that he will be hosting the 84th Academy Awards.
It will be the ninth time the 63-year-old comedian has hosted the hallowed Hollywood event, his first time was 1990 and last, 2004.
Crystal tweeted Thursday: "Am doing the Oscars so the young woman in the pharmacy will stop asking my name when I pick up my prescriptions. Looking forward to the show."
Article continues below advertisement
As RadarOnline.com previously reported, Crystal has made no secret of his desire to host the show again, saying he was "itchy" to get back on stage again.
The actor made the admission during a special 20th anniversary screening of City Slickers.
"It got to be too much after a while and the sameness in my life," he said, answering a question from the member of the audience about why he stopped hosting. "That's why I pulled back. And then when I thought I might want to do it again, they were on to other people. It's always fun. It's really hard, but maybe one or two more times? I don't know. They know where I am.
"I came out last year as a surprise," Crystal continued.  "It was a last-minute decision. They had called and said would you do this thing and honor Bob Hope and that was a kind of cool thing to do. I said OK. I did it, and people wanted to see me, they stood up, and I couldn't talk for about a minute," he said about the thunderous standing ovation.
"I got a little itchy. So we'll see what happens. I can't promise anything."