Ricky Gervais Bombs With Golden Globes Boss, But Hollywood Stars Support Him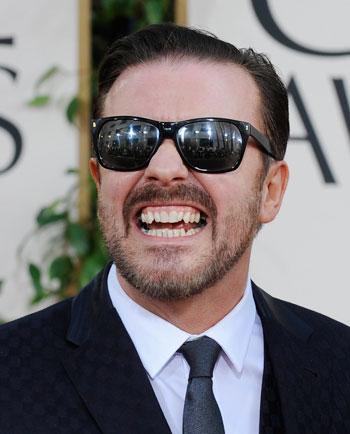 Ricky Gervais hosted the 2011 Golden Globes last night, live from Los Angeles – and it seems you either loved his controversial broadcast or you hated it!
One person, that certainly doesn't seem to be feeling the love is Golden Globes chief, President of the Hollywood Foreign Press, Philip Berk, who told the Hollywood Reporter today that Gervais "definitely crossed the line' with his often outrageous jokes and comments.
Article continues below advertisement
Larry King tweeted: "The folks who put on the Globes have no right to complain about Ricky Gervais. He does what he does. Why should it surprise them? You agree?"
American screenwriter and fellow comedian, Jon Hurwitz tweeted: "After watching the Golden Globes, we now know what a Comedy Central Roast would feel like with humorless people in the audience."
And actress Elizabeth Banks obviously doesn't have a problem about laughing at herself and her peers, writing: "I thought RG was hilarious. Actors can take it. We have thick skins."
Article continues below advertisement
Meanwhile, writer and producer Damon Lindelof who created the hit TV show, Lost, raved: "In case you forgot what made David Brent so brilliant, it's that he made us feel unsafe, uncomfortable and unable to look away. #BRAVORICKY.
Twilight actress Christian Serratos kept it short and sweet, posting: "Love Ricky Gervais. GGlobes were awesome. "
Whilst even Piers Morgan, who is busy ahead of the premiere tonight of his new talk show, Piers Morgan Tonight, took time out to defend his fellow Brit: "Complaining that Ricky Gervais was too rude is like inviting a shark to your paddling pool and moaning when it bites all the children."
Shaun of the Dead star Simon Pegg was spurred into a Twitter flurry, posting: "I'm hearing wildly mixed reports about our man Richard Gervais. Did he go too far? Or can some people not take a joke? Didn't see it so ..."
Then: "Seems crazy, he's hired for the very reason people complain. Complainers always have the loudest voices tho. The content tend to keep schtum."
Following up with: "I imagine the vast majority loved it, so the faintly racist 'yanks don't get it' comments are actually untrue and unfair."