2012 People's Choice Awards: All The Winners And The Losers!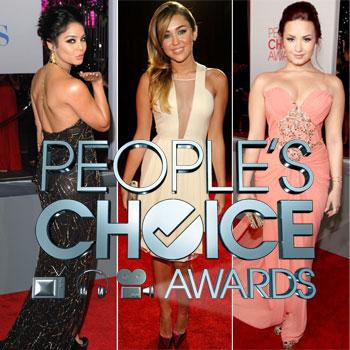 Article continues below advertisement
Broadcast from the downtown Los Angeles Nokia Theater, the show will be going out live on CBS at 8/9 central — but if you can't get to a TV, never fear, as we will bring you all the highlights, as they happen.
There's a total of 43 awards presented, and although not all of them will be shown live we will get to see all the biggies, like Favorite Pop Star, Favorite Actor, Favorite Actress, Favorite Movie and Favorite Reality Show.
Katy Perry, who won't actually be attending due to her current divorce drama, is slated to be a big winner of the night with a whopping seven nominations in total.
Keep refreshing the page for live updates (see below) on the 38th Annual People's Choice Awards, here on RadarOnline.com.
***
A parody of The Big Bang Theory kicks off the evening's festivities -- the night's presenter Kaley Cuoco's hit show.
A very cute Neil Patrick Harris is in the house -- wearing a microphone, could this mean a stint on stage?
Favorite Move Actress AND Favorite Comedic Movie Actress goes to ....... Emma Stone!
The stunning actress gives a rousing speech: "Stay true to who you are and what you do!"
Best Daytime TV Host goes to (not surprisingly) Ellen DeGeneres, wearing white tennis shoes and her customary pants suit, Ellen chooses to "not thank people" in her usual unconventional style.
Best TV Comedy Actress goes to Glee's Lea Michele -- but will she get a standing ovation like Emma Stone and Ellen DeGeneres before her?
Best TV Drama Actress goes to the category shoo-in of Nina Dobrev from The Vampire Diaries.
Favorite TV Actor goes to...... How I Met your Mother star, Neil Patrick Harris (who is matching Kaley Cuoco for outfit changes so far at two)
Demi Lovato gives the first performance of the night.
Favorite Pop Artist goes to...... Demi Lovato who gives a gushing speech thanking all her Twitter followers -- Just as well she was already on stage.
Kaley comes out in dress three of the night -- that's around twenty minutes a dress so far!!
Best Comedic Actor goes to Jack and Jill star Adam Sandler, beating out Bradley Cooper, Ashton Kutcher, Ryan Reynolds and Steve Carell.
Favorite Move Star Under 25 goes to the ultra cute girl from Hugo.... Chloe Grace Moretz.... quite a shocker as she beat out the Harry Potter gang.
Favorite Band goes to Maroon 5.
Best Drama Movie surprisingly goes to the Robert Pattinson and Reese Witherspoon flop Water for Elephants.
Favorite Album of the Year goes to Lady Gaga for her smash hit Born This Way.
Favorite TV Drama Actor goes to... Richard Castle on the ABC series Castle... otherwise known as Nathan Fillion.
And it's Castle again! This time winning the Best TV Crime Drama award.
Favorite Comedy Movie goes to the uber hilarious Bridesmaids.
Faith Hill enters stage right for the second performance of the night.
Dermot Mulroney is gushing over Zooey Deschanel, whom he is set to guest star with on New Girl, and Julia Roberts, who he co-starred with in My Best Friend's Wedding -- which he claims was "one of the best romantic comedies ever." Thoughts?
Favorite Cable TV Comedy goes to Hot in Cleveland and there's another standing ovation, this time for a highly deserving Betty White (everyone's favorite grandma).
Betty turns 90 on January 17, in typical unassuming fashion she says: "90 just happens, I didn't do anything!"
Favorite R & B Artist goes to Rihanna.
Kaley changes into dress four -- her wardrobe is proving more exciting than the show.
Favorite Movie Icon goes to........... Morgan Freeman, beating out Harrison Ford, Robert DeNiro and perennial bachelor George Clooney.
Favorite New TV Drama goes to J.J. Abrams' Person of Interest.
Favorite New TV Comedy goes to 2 Broke Girls.
Favorite Network TV Comedy goes to How I Met Your Mother.
RELATED GALLERIES:
Golden Globes: The Artist Leads Pack; Bridesmaid's Kristin Wiig Nominated, Melissa McCarthy Snubbed