Mario Cantone: 'Kiss My A**, Kirk Cameron!'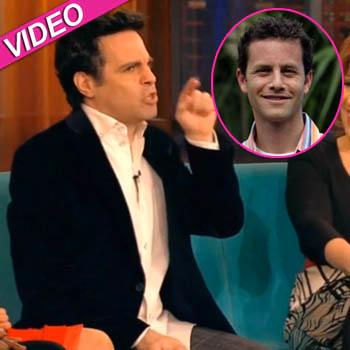 Pucker up, Kirk Cameron.
Sex and the City star Mario Cantone, appearing on The View Thursday, joked he hadn't been on the show for a while because he "was in Key West" with the former child star.
Cantone, 52, then launched into a passionate diatribe over Cameron's half-hearted apology for the anti-gay comments he made on Piers Morgan's CNN show earlier this month.
(In a mea culpa, Cameron said he was "encouraged by the support of many friends including gay friends, incidentally.")
Article continues below advertisement
Cantone, who is openly gay, said in response, "He actually said, my gay friends' -- Why would any gay people be friends with Kirk Cameron? Kiss my a** Kirk Cameron!"
Cameron, 41, told Morgan earlier this month of homosexuality: "I think that it's… it's… it's unnatural. I think that it's…it's detrimental, and ultimately destructive to so many of the foundations of civilization."
On the subject of gay marriage, Cameron told Morgan, "Marriage is almost as old as dirt, and it was defined in the garden between Adam and Eve. One man, one woman for life till death do you part. So I would never attempt to try to redefine marriage. And I don't think anyone else should either. So do I support the idea of gay marriage? No, I don't."
As we previously reported, the Growing Pains star then said in a crisis statement to ABCNews.com following the chat, "I spoke as honestly as I could, but some people believe my responses were not loving toward those in the gay community. That is not true. I can assuredly say that it's my life's mission to love all people."
Watch Cantone's passionate diatribe below. (WARNING: The video contains explicit language.)