Mom Shares Her Love For Baby With Cleft Palate And No Eyes In Heart-Wrenching Video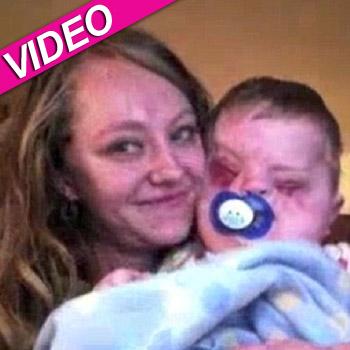 By Debbie Emery - RadarOnline.com Reporter
Even being born with a rare form of cleft palate that left him with no eyes can't stop bouncing baby Christian Buchanan from smiling.
The happy child has become a YouTube sensation since his mother, Lacey, of Woodbury, Tennessee, posted a video of her blind bundle of joy to prove how he has overcome cruel bullies with his laughter.
During the seven-minute film, Lacey, 25, tells her heart-wrenching story by holding photos and signs up to the camera while keeping her one-year-old son's face out of shot.
Article continues below advertisement
A week after Buchanan and her husband, Chris, discovered they were pregnant, the devout Christians were told their unborn child had developmental problems and there was an 85 per cent chance of her miscarrying.
While he defied the odds, Christian's Tessier cleft lip and palate were so severe that he couldn't close his mouth and his eyes just weren't there, reveals his mom in her hand written notes. He had his first surgery at just four-days-old, and spent the next week in the intensive care unit at Vanderbilt Children's Hospital.
Despite her faith, Lacey admitted "things were hard," and said they struggled with cruel people who asked 'What's wrong with your kid?,' with one woman even telling her she was 'horrible' for not aborting him.
"Anyone who meets Christian falls in love with him pretty quickly," the devoted mom wrote on one note card reads.
Lauren Scruggs Gets Prosthetic Eye; Mother Says It's 'Beautiful'
On her blog, LeadingTheBlind.com, the law student revealed that she was inspired to use flash cards to tell her story by a young woman named Lizzie, who was born with "a syndrome that was so rare it was unnamed. It distorted her facial features and interfered with her ability to gain weight.
Article continues below advertisement
"She tells the story of being in high school and someone taking an 8 second video of her, putting it on YouTube, and titling it 'World's Ugliest Woman,'" she revealed.
"Personally, I thought she was beautiful!"
Now garnering over 20,000 hits a day on her own video, Lacey gushed: "I am absolutely blown away by the response that the video has had," she said. "I never imagined it would be this big. Thank you so much to everyone who is supporting us in our journey!"