Jodi Arias: See The Murder Suspect's Sexy Photos As She Faces Death Penalty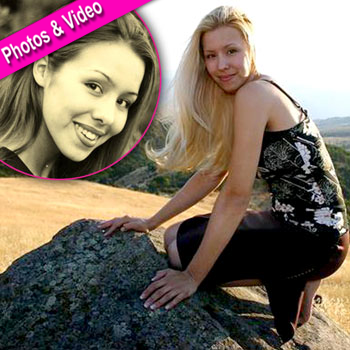 By Debbie Emery - RadarOnline.com Reporter
One day after opening arguments, the trial of Jodi Arias -- a beauty accused in the brutal murder of her Mormon boyfriend -- continues Thursday in a case that's expected to be one of the most watched trials since Casey Anthony. And now, RadarOnline.com has photos of the murder suspect in both sexy shoots and cozy couple pictures with the man she allegedly killed in cold blood.
Article continues below advertisement
Flipping her bleached blonde hair as she posed for the camera in a cornfield, the now-32-year-old looked more like an aspiring model than a cold-blooded killer. In another snapshot, she wears a prim and proper sweater while perched relaxedly in a tree.
However, as RadarOnline.com previously reported, Jodi is accused of shooting 30-year-old motivational speaker Travis Alexander in the face and then stabbing him 27 times and slitting his throat from ear to ear in his Mesa, Arizona home in June 2008, and prosecutors are hoping to make her the fourth woman on death row.
In other photos from a happier time, Arias and Alexander -- who met at a conference in Las Vegas in September 2006 -- stand arm-in-arm together, smile sweetly for a close-up, or bask in a waterfall with Jodi's hands firmly clasped around Travis' neck.
Arias says they fell in love, traveled the country together, and to strengthen her ties to the devout Mormon, she even converted to his religion.
During their passionate long distance relationship between Yreka, California and Mesa, Arizona, they spoke everyday and exchanged 82,000 e-mails according to court records.
Article continues below advertisement
But Alexander's friends say after dating a few months he tried to break it off, and she followed the object of her affection to his hometown, even after they split up.
When Alexander's roommates found his body they immediately suspected his lover, and even gave the 911 operator Jodi's name and said she had been "bothering" him and had slashed his tires.
"If he talked about another girl or if he looked at another girl… she just had this evil smirk on her face that you could just tell she was the type of person that could smile while she slit your throat, you know," said close pal Dave Hall, who had a bad feeling about her from their first meeting, reported HLNTV.com. "Pardon the pun there, in light of what's going on."
"She might be eye candy on the outside," he revealed. "But I just thought, her personality is not very… not very talkative. Very quiet, she just had a vibe about her that just was really mysterious."
Arias, who has been locked up since her arrest, has pleaded not guilty to first-degree murder.
"I didn't hurt Travis. I would never hurt Travis," Arias said in a jailhouse interview after she was arrested. "I would be shaking in my boots right now if I had to answer to God for such a heinous crime."
Article continues below advertisement
At first, Arias denied being at Alexander's house in the night of the murder. Then cops found a camera in Alexander's washing machine containing pictures of the two having sex that day. There were also photos of Alexander after he was killed.
Faced with that evidence, Arias then told Inside Edition that she was there, but didn't kill him.
"I witnessed Travis being attacked by two other individuals," she said on Inside Edition. "Who were they? I don't know. I couldn't pick them up in a police lineup."
Now, Arias admits that she did kill Alexander, but she claims that it was in self-defense. She claims he was sexually and physically abusive throughout their relationship.
Steven Alexander, Travis Alexander's brother, said that he can see Arias for who she truly is.
"It makes me sick because I know her true side," he told ABC News. "And I ask people to please not buy into this sweet innocent personality that she puts on."
Article continues below advertisement