Exclusive
Jodi Arias 'Not Too Pretty For Death Penalty' Says Nancy Grace Who Draws Comparison To Casey Anthony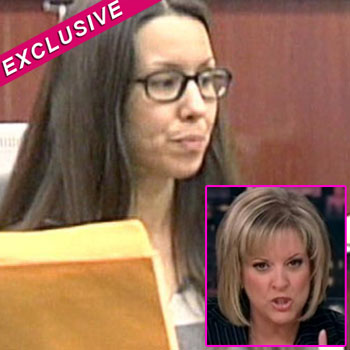 Article continues below advertisement
Jodi has been accused of shooting Travis Alexander and stabbing him 29 times, slitting his throat from ear to ear.
The sexy blonde has gone back to her natural brown hair for the trial and Nancy said she believes Jodi's appearance could affect the outcome of her trail.
"I am always concerned about someone's physical characteristics influencing a jury and a judge."
However, Nancy told RadarOnline.com that she believes Jodi, who she says uses her sexuality to her advantage, is "not too pretty for the death penalty!"
Nancy opined on what method of execution Jodi will select once she is given the death penalty, which she says will happen because of the "highly inflammatory" method of murder.
"She'll have the option of either gas or a needle. Gas is painful so I think she'll pick needle, where she will just drift off to sleep like she's getting a facial or a massage."
Nancy explained why she thinks the evidence shows that the murder warrants the death penalty.
Article continues below advertisement
"Jodi Arias, in my estimation, shot Travis Alexander in the face after he was down bleeding and naked in the shower. She took photos of his dead body!"
Nancy drew a comparison between Jodi and Casey Anthony, who was acquitted of murdering her daughter Casey Anthony.
"Similar to Tot Mom, she is a seemingly bright girl and hopefully her good looks won't affect how the jury looks at her."
RadarOnline.com will be livestreaming the Jodi Arias trial daily, check back for frequent court updates.