Exclusive
Rub A Dub Dub, He's Back On The Table Again! John Travolta 'Had A Great Energy' During Recent Rubdown, Says Male Masseur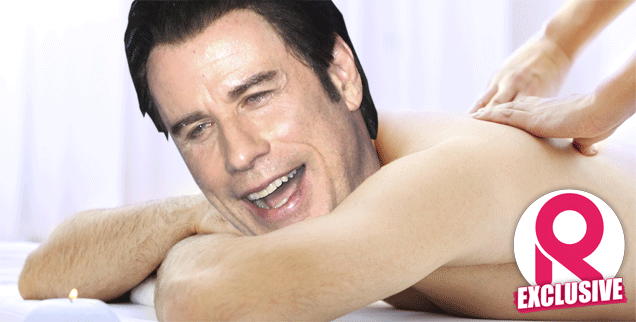 Despite all of the trouble that male masseurs have brought John Travolta over the years, he just can't seem to stay away from the massage table! RadarOnline.com has exclusively learned that the actor was at it again at the exhale spa in Boston earlier this month, when he shelled out for a full-body rubdown.
In town to film his new movie, The Forger, Travolta ordered up a $150, 60-minute Shiatsu massage at the exhale spa Back Bay in Boston on October 2. Utilizing "finger and palm pressure, stretches and other massage techniques," the treatment is supposed to "Shiat-you into a new state of wellbeing," according to the spa, which recommends guests "wear loose-ftted clothing" for their hands-on experience.
Article continues below advertisement
True to form, Travolta had a male massage therapist, who said that he was "so cool, and had a great energy," an insider tells RadarOnline.com exclusively.
Past masseurs have not been so complimentary.
In 2012, an unidentified male masseur sued Travolta for assault, sexual battery, and intentional infliction of emotional distress after Travolta "touched the Plaintiff's scrotum" during a massage at the Beverly Hills Hotel. Travolta's rep said that the lawsuit was "a complete fiction and fabrication."
That was followed by a $2 million lawsuit from yet another male masseur, who claimed that Travolta "removed his draping and was masturbating" during a deep tissue massage. Travolta's camp dismissed that accusation as false as well, and both accusers eventually dropped their cases.
That same year, cruise ship masseur Fabian Zanzi accused Travolta of sexually accosting him during a Royal Caribbean Cruise in 2009. He later dropped his lawsuit as well.