John Travolta & His Pilot Had 6-Year Gay Relationship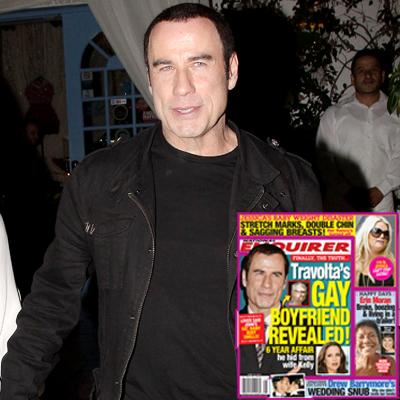 The John Travolta sex scandal has exploded with a new report that the actor had a six-year gay affair with his pilot.
Travolta and Doug Gotterba were lovers in the 1980s, according to Travolta's former secretary and Gotterba's ex boyfriend. The article is in the new issue of the National Enquirer, which hits newsstands Friday.
Joan Edwards was Travolta's secretary from 1978 to 1994 and is the first ex-employee to publicly say the actor is gay. "I did everything for him, including taking care of his personal and professional schedules. Of course I knew he was gay. It never bothered me," she is quoted as telling the Enquirer.
Article continues below advertisement
She also says she was aware of Travolta's affair with Gotterba, who began working for the actor in 1981. "That's how I met Doug. We both worked for John at the same time. Doug is a wonderful guy and we are still good friends. He told me that John was gay and they had a sexual relationship," she said.
Gotterba is not quoted by the Enquirer about his relationship with Travolta. The tab says only that he confirmed his employment with the actor.
But Gotterba's post-Travolta boyfriend, Robert Britz tells The Enquirer, "Doug told me right at the beginning of our relationship that he'd had a homosexual relationship with John Travolta in the 1980s. Doug said John was constantly grabbing at his genital area, but he put up with John's sexual advances because working for him was 'lucrative.'"
Britz also reveals that he was shown a home video of Gotterba and Travolta in a hotel room. "I personally saw about two minutes of Doug's home video showing John Travolta sitting at the end of a bed with his shirt off. There were plates of food in front of him. The video appeared to be shot in a hotel room. Doug made it clear that it was very lucrative for him to be what he called John's 'personal right hand man' and homosexual partner," he said.
Article continues below advertisement
But Britz says Gotterba told him the relationship with Travolta was too much and he became turned off by John's "hairy body" and his weight gain between movies, which Gotterba said made him 'huge.'
"After a few years, Doug grew apart from John sexually, and John's advances eventually started to repulse him," Britz said. "The relationship ended shortly thereafter."
And while Travolta was peaking in his Hollywood superstardom status, author Wensley Clarkson claims his team scrambled to hide his homosexuality by setting him up on a date with 16-year-old starlet Brooke Shields.
"The supposed relationship reached a head when John was being interviewed by a magazine journalist and just happened to take two lovey-dovey phone calls from Brooke during the interview," Clarkson wrote in his 1997 biography John Travolta: Back in Character.
"Close friends of John knew perfectly well there was no romance with Brooke. But the rumors certainly helped to improve John's image."
Gotterba, 60, now owns a private jet company out of Santa Barbara, California.