It's Official! Kate Gosselin Confirms She's Filing Lawsuit Against Jon Gosselin & Book Author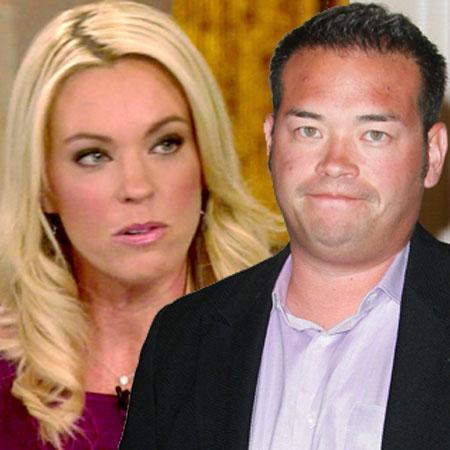 It's been four years since Kate Gosselin and Jon Gosselin filed for divorce but the real drama is just beginning.
Kate will file a lawsuit against her ex husband and Robert Hoffman, author of a self-published e-book that is largely based on material from her computer, RadarOnline.com is reporting exclusively.
And Kate confirmed her lawsuit, releasing this statement that was made available to Radar: "This lawsuit is absolutely moving forward."
Article continues below advertisement
And McGibney, who set these events in motion, will also file suit against a Twitter user who apparently sent messages claiming he was sending people to harm her, and worse.
"When BullyVille says we're going after someone, we mean it," McGibney told Radar exclusively. He adds that subpoenas have been issued to obtain IP addresses where "implied death threats" originated.
Kate's bombshell lawsuit against her ex-husband and Hoffman is the headlining event and the mom of eight believes Jon and Hoffman secretly worked together, attempting to profit by spreading defamatory information against her – and worse.
Article continues below advertisement
Kate has long thought that Jon worked with Hoffman in 2009 to obtain the hard drive from her computer, which Hoffman claims he pulled out of her trash. His scathing e-book was filed with contracts, emails and other material that came from Kate's computer. Radar was first to reveal Hoffman and Jon are pals and Jon helped him get access to Kate's computer.
Radar recently revealed a series of 2009 text messages from Jon to his then-girlfriend Hailey Glassman in which Jon talks about grabbing Kate's computer to "put the nail in her coffin." He also discussed how he is a silent partner and has a "pal" named Robert.
That pal is Hoffman, who has accused Kate of abusing her children and much, much more. Hoffman denies that Jon helped him obtain the material from Kate's computer and his supporters have contended the text messages are fake.
But Glassman tells Radar that her attorney verified the texts were real with the phone carrier in 2009.
Kate has been gathering material for a lawsuit against Jon for months, as Radar was first to report. Lawyers have not made a final determination what causes of action she will include, but there will be several, Radar has learned.
Article continues below advertisement
Hoffman is often cited as a key figure for the anti-Kate crowd, who point to his e-book as "proof" for their charges against her, including mistreating her children, and worse.
And Hoffman has never backed off his criticism of Kate, even after his e-book was pulled off sale by Amazon 48 hours after it went up. He told Radar he has called child protective services on her twice. (McGibney says there is no record of those calls.)
McGibney ignited a firestorm in the twitterverse weeks ago when he warned people who he felt had "crossed the line" in slamming Kate to back off and even apologize. He used a third-party repository website to post some critics' real names and addresses.
"I saw cyber-stalking and bullying," McGibney told Radar.
He demanded apologies from some he deemed the worst offenders – and one person apologized to Kate through Radar.
Article continues below advertisement
But McGibney's actions also created a reaction, with critics continuing to blast Kate – and McGibney.
"Fans reached out and pleaded for help," McGibney told Radar about pro-Kate fans who said they were being bullied – and worse – by an anti-Kate faction.
"After seeing death threats and what has been clearly defined as cyber-stalking and brutal harassment, I took action," McGibney told Radar.
When he revealed some of the Kate haters names, many apologized but others "kicked up their hatred into overdrive," he says.
And in the course of sorting through the situation, McGibney said he came across compelling evidence that Jon took Kate's computer hard drive without her permission and got it to Hoffman "in an effort to defame Kate for monetary gain."
McGibney also tells Radar there is a lawyer who he believes is tied into the money scheme that Jon and Robert hatched. "This lawyer owned and operated a birth fetish video website, including categories like teen births and birth on toilets," he told Radar, adding that "screenshots of Google Adsense code clearly tied the owner of (an anti-Kate website) to this birth fetish video website."
Article continues below advertisement
In addition to Kate's lawsuit, a multiple plaintiff lawsuit is in the works against "Lisa Knight" from Russellville, KY, who, according to McGibney, "is the owner of a blog site where Kate Gosselin haters congregated for years. "
He says cyber-stalking and other activity is connected to that site and will form the basis of a lawsuit. In addition, McGibney told Radar that more than 80 people have come forward as potential plaintiffs.
"Lisa Knight" responded to Radar's request for comment earlier this week, admitting she runs the site but telling us that Lisa Knight is her aunt's name, not hers.
"Lisa Knight is not even my real name, it is my aunt's name," she told Radar as part of an email about something else that was posted online, which she claims is not true. "I started out using her name about 5 or 6 years ago. It was just the first thing that popped in my head at the time."
Article continues below advertisement
McGibney's response?
"To solve that problem, BullyVille is naming everyone who lives in the house tied into that IP address as a defendant," he told Radar. "It's only a matter of time before we all find out who really runs this."
Lawsuit Number 3 will feature McGibney as the plaintiff against a Twitter user.
"She falsely stated that I hired people to kill her and hired someone to kick down her door and kill her," McGibney told Radar. He says she accused him of hiring people to "send mail bombs to Kate's haters."
This will not be McGibney's first foray into the legal arena on web-related issues. He recently won a $283,000 judgment against "revenge porn" king Hunter Moore, in a vicious battle.
He succeeded in shutting down Moore's site and a second site, which was at the center of a second "revenge porn" court victory for the anti-bullying activist.
McGibney told Radar he is donating the financial awards to battered women's and homeless shelters throughout the United States.