Newly Released Text Messages Prove Jon Gosselin Gave Kate's Hard Drive To Author For Profit, Says Anti-Bully Activist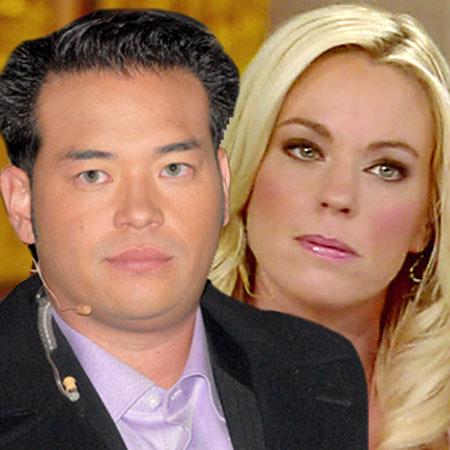 Newly released text messages proves that Jon Gosselin grabbed Kate's computer and gave it to someone else to "put the nail in her coffin," according to anti-bully activist James McGibney, who release the text messages Monday.
Calling it the smoking gun that Jon was working with anti-Kate Gosselin author Robert Hoffman, McGibney released messages proving Jon and Robert schemed to profit off releasing damaging material against Kate.
Article continues below advertisement
"I'll be back soon grabbing Kate's computer before she gets home. I need that hard drive," reads the text, dated October 14, 2009 from a number McGibney says he has confirmed belonged to Jon. (It is not clear who the messages were sent to.)
The text continues: "I will put the nail in her coffin someday from it."
The next text reads: "I'm giving it to a good friend of mine to hold."
Another text from the same day mentions, "Rob from the Dinner," who McGibney says is Hoffman. It continues, "We are working on something together but I will only be a silent partner.
"No one will know. Rob is going to say he took it from our garbage."
Here is the text message document released by McGibney:
Hoffman has indeed said he retrieved Kate's hard drive from the garbage but as RadarOnline.com reported earlier, he had help from Jon in obtaining it.
The text message is 100% real, McGibney says and proof of how Jon and Robert worked a for-profit scheme to damage Kate.
As RadarOnline.com reported earlier at least 80 people are joining a Kate Gosselin anti-bullying lawsuit headed by McGibney of Bullyville.com, an anti-bullying web site.
Article continues below advertisement
The plaintiffs contend they have been harassed in various ways by some of Kate's most ardent detractors, who they say have crossed the line into actionable behavior. (Many of Kate's detractors say they have been victimized and are being harassed for expressing their opinions.)
Some people on both sides have had their identities released online. In extreme cases, names of relatives, and home addresses have been exposed.
Article continues below advertisement
McGibney of Bullyville was previously successful in suing Hunter Moore, a notorious web presence who sometimes encouraged people to harm themselves and posted "revenge porn." Moore's site was shut down and a judgment entered against him. (Brandi Passante of Storage Wars also sued against Moore after he posted a porn movie and falsely claimed she was one of the performers.)
Moore's over-the-top antics, his bruising (losing) battle against McGibney and an instructive report on the dark, dark side of the web, are all detailed in this
Article continues below advertisement
Hoffman has not backed off his charges about Kate .
Only last week, he told RadarOnline.com in an email, "I think the reason so many people are arguing on Twitter is because of the irony of Kate Gosselin of all people, crying that she's being bullied.
"Forget about her vicious email threats and chilling first-person accounts of her beating her own babies in diapers that she paid lawyers to cover up; all anyone needs to do is watch her in action during seven seasons of reality television.
"In my opinion, Kate Gosselin is the biggest bully on television and she's doing everything she can to try to rewrite history."
Meanwhile the details of how he obtained Kate's hard drive computer are now the center of a new battle.