Exclusive
I'm Suing Kate Gosselin For Releasing My Texts That Proved Jon Gave Computer To Author, Says Hailey Glassman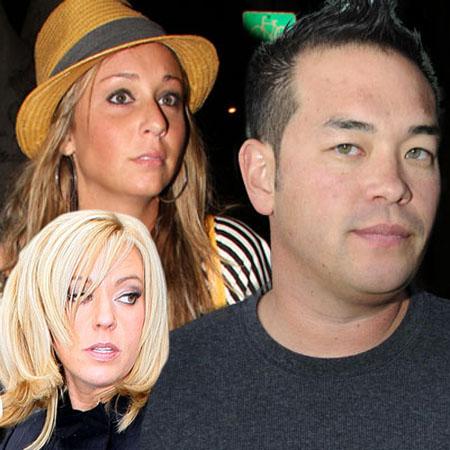 Jon Gosselin's former girlfriend Hailey Glassman tells RadarOnline exclusively she will sue Kate Gosselin over newly released text messages that show Jon planning to steal his then-wife's computer and give it to a pal, who wrote a scathing book about Kate!
That's the latest twist in the increasingly dramatic rekindling of the Jon and Kate war. Text messages released on Monday show Jon Gosselin plotting to take Kate's computer hard drive and give it to Robert Hoffman, then a freelance reporter who went on to savage Kate in a self-published e-book that was largely based on information from Kate's computer. It contained contracts, emails and other personal documents.
Article continues below advertisement
Still, she's furious at their release and says Kate is behind making them public and she will now sue the mom of eight.
"My attorney is currently teaming up with a Pennsylvania attorney to sue Ms. Gosselin for using and taking information to which did not belong to her,'" Hailey told RadarOnline.com.
"Ms.Gosselin also involved a third party on the private information, BullyVille.com to release it for her. We are taking immediate action."
Article continues below advertisement
As for Hoffman's denial about the validity of the emails, Hailey tells RadarOnline.com: "My attorney pulled the text from Verizon in 2009 when Jon tried to set me up, reporting I stole his TV when he texted me keep the tv it's a gift and texting me what furniture to take as a 'gift' then reporting I stole it.
"So that was my saving grace -- the 2009 texts from him."
Hailey told RadarOnline.com that Kate asked her for correspondence she had with Jon so that she could put together a lawsuit against Jon. But Hailey never gave permission for Kate to ever use any of the material -- and then Hailey's messages ended up published.
"Kate called my mom to ask her for help," Hailey told RadarOnline.com. "She said she needed to stop this book from being published and needed any information we had to help her go after Jon and stall the publication of the book.
"She actually said to my mom, 'My kids...I need to get my kids away from Jon. They don't even like going to his house anymore, so please help and call Hailey to see if she has any information that can help me.'
Article continues below advertisement
"I initially agreed because we felt bad for the kids. Kate sent some girl to my apartment in Manhattan to retrieve my folder of information from 2009. She had her attorney contact me via email, with Kate on the email thread for the introduction and another attorney."
In bombshell email exchanges exclusively obtained by RadarOnline.com, there is a chain where Hailey clearly tells both Kate and her attorneys that she doesn't want to be involved or participate in any legal action that Kate is planning to take.
"Thank you for at least giving me the solid proof answers that Jon is responsible for the book," Kate responds to Hailey on March 1, 2013.
"If you change your mind and want to testify, let me know."
See Kate's entire email response below:
Less than an hour later Hailey responded to Kate and her attorneys specifically stating, "My family is not giving you permission to use the text."
See Hailey's response below:
Article continues below advertisement
Hailey told RadarOnline.com that when she first spoke with Kate about contributing to her lawsuit, Kate was very pleasant -- but things turned when Hailey dropped out and Kate didn't get what she wanted.
"To sum up the conversation, she was very nice and to the point, because she wanted my texts," Hailey said "Kate wanted something from me so she was nice, but I'm not easily manipulated at this point in my life because her ex-husband taught me the hard way.
"But once I dropped out Kate bullied my mom on the phone with her manipulation tactics. I called Kate to explain why we weren't doing it and she cut me off and said, 'Hailey this is good for you. It will clear your reputation and I will state what a good person you are and how you didn't come into the picture dating Jon until a year after we broke up.'
"Kate got really aggressive with me -- and especially with my parents -- trying to convince us to participate, but it just wasn't going to happen."
Article continues below advertisement
"I'll be back soon grabbing Kate's computer before she gets home. I need that hard drive," reads the text, dated October 14, 2009.
"I will put the nail in her coffin someday from it."
Another text from the same day mentions, "Rob from the Dinner," who Hailey confirmed is Hoffman. Jon wrote: "We are working on something together but I will only be a silent partner.
"No one will know. Rob is going to say he took it from our garbage."
Article continues below advertisement
While Hailey admits the 2009 text messages were between she and Jon, she notes that she specifically told Kate just two months ago that she didn't want to release them and tried vigorously to get them back.
"I still never received my folder back that I loaned her and she promised me and my parents she would return it. Now I know why she hasn't returned my private information," Hailey told RadarOnline.com.
"She is using it and having BullyVille be her mouthpiece." Hailey noted the irony of Kate using her material without permission while a furor erupts over Hoffman using material without her permission.
In a March 1, 2013 email to Kate, Hailey explained why she didn't want to be involved, "The media will make this look like, 'Kate Gosselin sues Jon while scorned ex Homewrecker Hailey Glassman helps bury him.'
"If you think Jon is going to lay down, you're highly mistaken. We all know his antics all too well first hand."
Hailey told RadarOnline.com, "Kate's perception of reality is off, fueled by her narcissism and she is by far the biggest bully I have ever encountered. It boggles my mind that she is going after anyone on Twitter who has tweeted her negatively.
Article continues below advertisement
"Kate if you can't take the heat get out of the kitchen, or how about getting off Twitter and taking care of your beautiful eight children?! You talk about them a lot and you also talk a lot about how hard it is being a single mom with eight kids. Why don't you do less talking and more doing."
Hailey maintains she didn't want to be in the public eye again, and certainly not attached to the Gosselin name, but she won't let this action by Kate slide.
"I never get involved with Gosselin crap and drama, but when it pertains to me and Kate illegally using MY information, with motives, to put Jon in jail, that's when I put my foot down and speak out," she told RadarOnline.com.
"Whether Jon is behind this book or not, it's wrong...and if everybody's wrong, nobody is right."