Accused Murderer Jodi Arias Has Jailhouse Boyfriend & He Says 'She's Nicest Person You Will Ever Meet'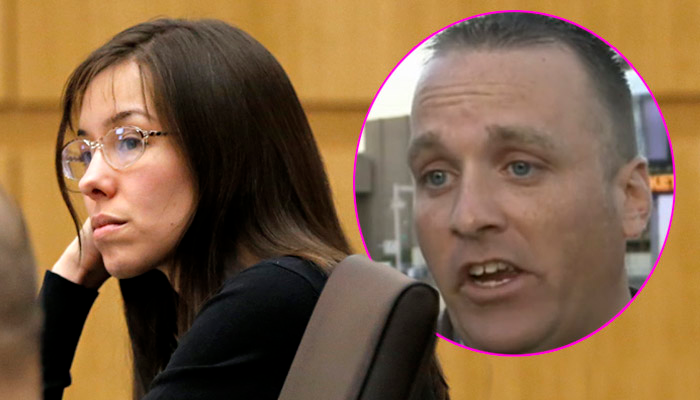 Article continues below advertisement
As RadarOnline.com previously reported, during her first day of testimony on Monday, Arias, 32, admitted to killing her former boyfriend, a 30-year-old motivational speaker, in June 2007. However, despite stabbing him 27 times, slitting his throat and shooting him in the face, she maintains that she acted in self defense after "he attacked me."
Having stayed silent about their blossoming relationship for all these months, Carr is finally opening up -- speaking to local station, Channel 12 News about the woman who has been his close confidante for the past year -- and insisting she is far from the manipulative, sex-crazed, jealousy–fueled, cold blooded killer many believe her to be.
"She is not that person at all. She is the nicest person you will ever meet," he said, AZCentral.com is reporting.
Carr was first introduced to Arias, online, through a mutual friend a number of years ago and they later reconnected through Facebook , eventually leading to them finally meeting face-to-face last year, after he drove down from the nearby city of Prescott to visit her in jail.
"I wanted to reach out to her because my sister was in a very abusive relationship," he explained, going on to say that the connection between them was instant.
Article continues below advertisement
As previously reported, Nancy Grace revealed on her HLN show last week that Arias has a secret jailhouse lesbian lover, however, it's not apparent yet if she has reason to be jealous, as besotted Bryan is playing the gentleman card and will not reveal whether HIS relationship with Jodi is of a physical nature.
Meanwhile, as Arias has the most intimate details of her childhood and personal life discussed and dissected -- both in open court and on the live television coverage capturing the nation — Carr says he likes to keep their jailhouse dates light-hearted and upbeat when possible.
"I like to keep it positive, when I go to visit her it is a lot of joking and a lot of laughing, it is a lot of good times, because that is what she needs right now," said Carr, explaining that although they limit discussing specific details of the trial, Arias has told him that having the explicit details of her sex life revealed and discussed day in and out is starting to take its toll on her.
"She did admit that it is very embarrassing, the sexual part, because obviously her family is up there in court, her friends are up there… It is very humiliating and it is very embarrassing. I don't blame her at all. I can definitely see some depression there."
Article continues below advertisement
Despite being witness to all the graphic autopsy photos showing the horrific injuries that were inflicted on Travis by Arias, including the bloody and gaping ear-to-ear gash that she slit across his throat — the steamy naked photos Arias and Alexander took of each other, hearing details of all the dirty texts they sent back and forth between each other and explicit testimony about the then-lovers' steamy sex trysts -- Bryan still considers the defendant to be a very warm, sweet and caring person.
"I wish everyone could meet Jodi because they would have a different outlook on her," he said.
Keep checking back with RadarOnline.com for regular updates and daily live-streaming of the explosive Jodi Arias trial as it continues.