Exclusive
Grace Says 'Guilty!' Jodi Arias WILL Get Convicted Of Murder, Predicts Nancy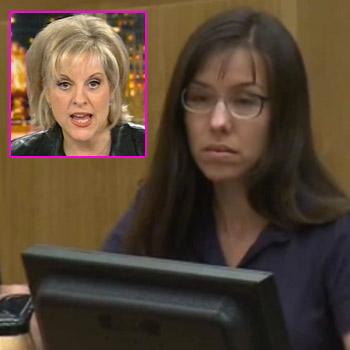 Jodi Arias is pulling out all the stops in her quest to keep her liberty, and more importantly, her life, as she faces a possible death sentence if convicted of the brutal murder of her ex-boyfriend, Travis Alexander, but she's fighting a losing battle, according to veteran HLN host Nancy Grace, who tells RadarOnline.com exclusively that she's confident the jury will not buy her defense and will find her guilty!
Article continues below advertisement
"There is no way around a murder conviction for Jodi," the acid-tongued former prosecutor predicts.
"In my opinion the facts have proven that this is Murder 1. BUT, if they feel pity for her they may give her Murder 2. I think that they will give her murder one though, but with no death penalty."
As we previously reported, Grace, who was in the Phoenix, Arizona courtroom last week to hear the defense present their argument that Arias was acting in self-defense when she shot the 30-year-old motivational speaker in the face, slit his throat and stabbed him 27 times, broke the bombshell that Jodi has a secret lesbian lover behind bars - proving, legal expert Matt Zarrell claimed in an interview HLN, that the 32-year-old has the ability to "charm herself into any relationship. She has charmed herself into yet another relationship, but this time it is with the same sex, with a female."
Grace says that the revelation of the jailhouse girlfriend, combined with several of the defense witnesses' testimonies that have inadvertently proven be more detrimental than beneficial to Arias' case, is helping bolster the prosecution's argument that Jodi is a jealous and obsessive cold blooded killer who is willing to use her sexuality to manipulate people in order to achieve her dreams, no matter what the cost.
Article continues below advertisement
"Her ex-boyfriend testified that she took naked pictures of him in the shower, just like she did with Travis, and he said that she was aggressive during sex," Nancy notes.
"This witness also said that she got multiple gas cans from him before she drove 1,000 miles to stab and shoot Travis. I believe that shows she was either planning to burn the evidence, burn a body or not be identified in the jurisdiction stopping for gas. This to me shows premeditation, and I think the jury will see it that way too."
Nancy goes on to explain why she thinks the defense witnesses' testimonies are "backfiring" for Jodi.
"The witnesses that they have put on the stand have all ended up actually making Jodi look bad," she claims. "It is totally backfiring for them. One witness even admitted under cross examination that she thought Jodi was a stalker."
Meanwhile, Nancy goes on to share her assessment of the accused killer, telling RadarOnline.com that she thinks Arias is a formidable defendant, but that won't be enough to save her at the end of the day.
"She is smart, but her M.O. is the same, it just escalated this time and she killed Travis Alexander," Grace says. "I predict that the jury is going to find her guilty!"