Exclusive
Jodi Arias' Self Defense Claim Is 'Really Disturbing' Says Nancy Grace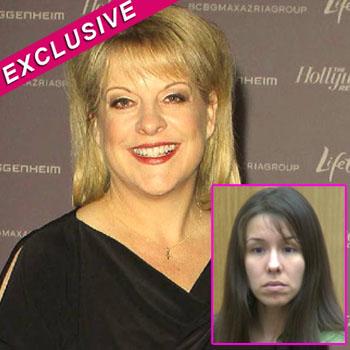 As the trial resumes for Jodi Arias, who's accused of murdering her devout Mormon boyfriend, Travis Alexander, in cold blood, outspoken television host Nancy Grace exclusively tells RadarOnline.com that she finds her claim of self-defense "really disturbing."
The HLN host expressed outrage over the self defense Jodi is claiming and said that she doesn¹t believe this story and doesn¹t think the jury will either.
Article continues below advertisement
"This is really disturbing," Nancy says in an exclusive interview.
"They are attacking the victim and they are defaming him," she says of Jodi's current defense story, which was the third explanation she gave for how Travis died.
"I am incensed at the way they're portraying Travis," Nancy, a crime victim herself, says.
"These crime scene photos make me nauseous, and I have seen all sorts of crime in my time. They are some of the worst I have ever seen, and I can see from the photos that this was not self defense. This murder cannot be justified as self defense."
As RadarOnline.com previously reported, Jodi was in tears during testimony in the first days of her trial. With her trademark acid tongue Nancy said Jodi's behavior was pure "B.S."
"If she had been crying all along, when she spoke with the police, when she gave interviews to the media then maybe I would believe it but she's turning the waterworks on for the judge and the jury."
Nancy said everything is calculated by Jodi, including her physical appearance.
"She is trying to look even more plain in court with that hair and those clothes. Lawyers and judges and even the people of the jury who have been around the block aren't going to buy it."
RadarOnline.com will be live streaming the court proceeding when the trial resumes at 12:30 pm EST Tuesday.