Jodi Arias Has A Secret Jailhouse Lesbian Lover, According To Nancy Grace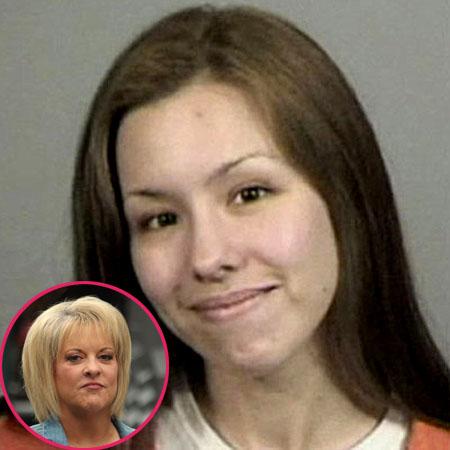 She has been branded a femme fatale and a man-killer, but now death penalty murder defendant Jodi Arias has directed all her flirtatious charm at a fellow female prison inmate, according to a new report.
Veteran HLN host, Nancy Grace, recently visited the Estrella Jail in Phoenix, Arizona, where the once blonde bombshell is being held, and reports that she discovered Arias has a secret lesbian lover.
Article continues below advertisement
As RadarOnline.com previously reported, the now mousey brunette Jodi, 32, is accused of murder after shoot 30-year-old motivational speaker Travis Alexander in the face, stabbing him 27 times and slitting his throat from ear-to-ear in his Mesa, Arizona home in June 2008 — her defense team claim it was in self-defense.
The emergence of the alleged new girlfriend proves that Arias has the ability to "charm herself into any relationship," legal expert Matt Zarrell told HLN. "She has charmed herself into yet another relationship, but this time it is with the same sex, with a female."
While the identity of Jodi's reported special gal pal was not revealed, after over four years behind bars she has certainly had ample time to get serious with a new lover, and a torrent of damning testimony during her trial so far has painted Arias as someone who easily turns their emotions on and off.
As we previously reported, just hours after allegedly murdering Travis, the pretty brunette drove to Utah and spent the night with Ryan Burns, during which time they hooked up and "she got on top of me pretty impressively," he told the Maricopa County Court during his testimony.
"She is strong. She had close to a six-pack," he further revealed.
Arias' sexually-charged relationship with Alexander, a devout Mormon, has also been exposed courtesy of raunchy text messages and dirty photos they took of each other on the day of his death.
Keep checking back with RadarOnline.com for regular updates and daily live-streaming of the Jodi Arias trial as it continues.