Jodi Arias' Ex Testifies To Naked Photo Sessions, Just Like The Accused Murder & Alleged Victim Enjoyed!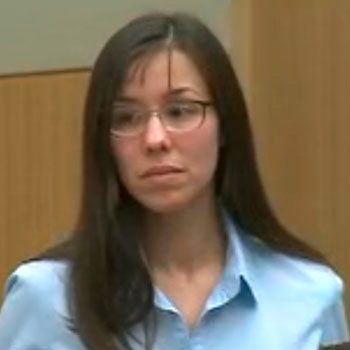 After a 10 day break in her death penalty trial, the defense team for Jodi Arias began presenting their case Tuesday, and appeared to be hell-bent on painting their client as a loving, quiet, passive person incapable of committing brutal murder by stabbing, shooting and slitting her on-off boyfriend's throat.
The portrayal of a sweet and innocent Arias was soon shattered however, after Darryl Brewer, an ex-boyfriend of the the pretty brunette's, took the stand and made the bombshell revelation that she liked to snap raunchy naked photos of him showering.
Article continues below advertisement
Brewer's testimony sensationally mirrored earlier revelations that Jodi and her alleged victim, Travis Alexander, took X-rated photos of each other on his digital camera (which later became a piece of key evidence) shortly before his alleged murder, including naked photos of Travis in the shower.
Brewer told the jury that he met Jodi while she worked as a waitress for a resort in California where he was a supervisor. After he was no longer her boss, they "fell in love" he said, and he described her as a "responsible, loving, caring person."
Arias at first looked on fondly at her former lover as he talked about her, but when he revealed her naked photo-taking fetish, she suddenly got a "who's witness is this?" look on her face, 12 News/KPNX reporter Chris Williams revealed in his live Twitter updates from the trial.
The older man from Monterrey, California, testified that he dated Arias for four years and said she had a good relationship with his young son. The couple eventually moved to Palm Springs together in May 2005, during which time Brewer said he saw no evidence of her being a jealous person and that she didn't easily fly off the handle.
Article continues below advertisement
Neither was Jodi "actively religious," at that time, despite her later converting to Mormonism after meeting Travis so that she could bond with him through the church. Brewer later admitted though that Jodi became a different person after getting involved with Pre-Paid Legal Services, the pyramid scheme that both she and her alleged victim worked for.
During cross examination by prosecution attorney Juan Martinez, Brewer revealed that his final conversations with Arias, which occurred shortly before Alexander's gruesome death, took on a sinister tone after she called him in May 2008, asking to borrow gas cans for a "long trip" to Mesa, Arizona.
As previously reported , Jodi, now 32, is accused of murdering Alexander, a 30-year-old motivational speaker, after shooting him in the face, stabbing him 27 times and slitting his throat from ear to ear in his Mesa, Arizona home on June 4, 2008. Her defense maintain she killed him in self-defense.
Stay with RadarOnline.com for regular updates and daily live-streaming of the Jodi Arias murder trial.