The Jodi Arias Murder Trial: See The Bloody Crime Scene Photos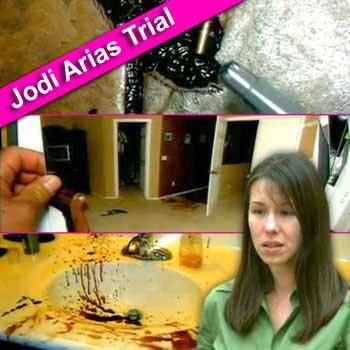 The bombshell murder trial of Jodi Arias -- accused of murdering her former lover, a devout Mormon, in cold blood -- will resume Tuesday after an extended weekend break. The jury, no doubt, may need the time to process last week's testimony that included seeing disturbing images from the gruesome crime scene.
As RadarOnline.com previously reported, Jodi, now 32, is accused of shooting 30-year-old motivational speaker Travis Alexander in the face and then stabbing him 27 times and slitting his throat from ear to ear in his Mesa, Arizona home in June of 2008.
Article continues below advertisement
Jurors in the Maricopa County courtroom grimaced last week when shown the startling series of photos from Alexander's bedroom and en-suite bathroom, which include a blood splattered sink covered in spray from when he was blasted with the .25-caliber gun and then slashed, a bullet shell from the shooting, and his abandoned closet in the master bedroom.
The pretty brunette defendant, now, 32, regularly broke down in tears in court as the photos and extensive of electronic evidence such as raunchy e-mails and text messages were revealed, including one correspondence where Alexander used offensive sexual names for his alleged killer, and wrote: "I think I was little more than a dildo with a heartbeat to you."
According to HLNTV.com, she openly cried and reached for tissues as prosecutor Juan Martinez displayed the horrifically violent scene and suggested that someone had tried to wipe the blood from the sink. Congealed blood can also be seen on the toilet, floor, bath mat, and walls.
Prosecutors are seeking the death penalty for Arias, and hoping to make her the fourth woman on Arizona's death row.
Stay with RadarOnline.com for updates and the daily live-streaming of the trial. It resumes Tuesday, January 8.