Jodi Arias Took Photos Of Her Butchered Lover, Prosecutors Claim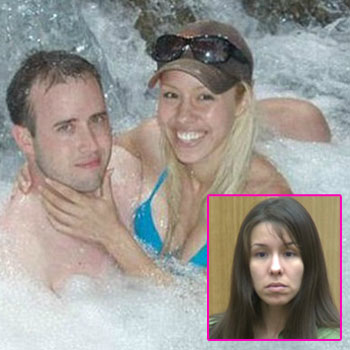 Not only did pretty brunette Jodi Arias allegedly butcher her former boyfriend but she took photos of his slashed up dead body in the shower, prosecutors claim.
Key items in the damning evidence heard in the Maricopa County court this week revolve around the final images captured on the victim's camera the night that he died, including a picture showing his suspected killer dragging his body across the floor.
Article continues below advertisement
As RadarOnline.com previously reported, Jodi, now 32, is accused of shooting 30-year-old motivational speaker Travis Alexander in the face and then stabbing him 27 times and slitting his throat from ear to ear in his Mesa, Arizona home in June 2008.
Earlier images on his camera show the tumultuous couple having sex that same day, according to testimony, and another of 30-year-old Alexander in the shower of his apartment just moments before he was killed.
After first claiming that masked intruders broke in and attacked them both and she was too scared to report it to the police, Arias changed her story. When investigators found the water-logged camera, she told them that she killed Alexander after he violently attacked her for dropping it in the washing machine.
"Had Jodi not chosen to defend herself, she would not be here," defense attorney Jennifer Willmott told the jury. However, prosecutors argue that the brutal slaying was brought on by jealousy over Alexander's relationships with other women.
Now 32, Jodi could become the fourth woman on Arizona's death row if convicted.
Stay with RadarOnline.com for updates and the daily live-streaming of the trial. It resumes Tuesday, January 8.