106 Seconds Of Terror! That's How Long It Took Jodi Arias To Kill Boyfriend, According To Crime-Scene Recreation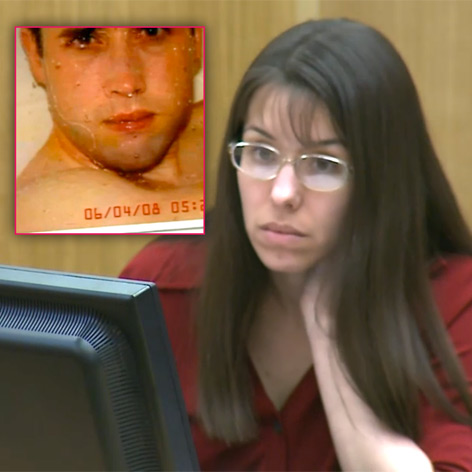 One minute and 46 seconds.
That's how long it took Jodi Arias to kill Travis Alexander, in a frenzy of violence, stabbing him 27 times, slashing his throat so deeply ear-to-ear that he was nearly decapitated and shooting him in the face.
That's 106 seconds of pure terror, according a crime-scene reconstruction as Arias faces the death penalty in her headline-making murder trial in Arizona.
Intrigue and drama have been a constant them of Arias' trial and fiery testimony is heating up the Maricopa County courtroom, where RadarOnline.com has watched up close to bring you the latest details.
Article continues below advertisement
The Arizona Republic reported that it took 106 seconds for Alexander to die after Arias began her attack.
The timeline was created with the help of graphic photos that the on-again-off-again couple took of each other during an afternoon of frisky fun, followed by a shot of an irritated Travis in the shower just minutes before he died, and finally the fateful image likely taken by accident showing a leg clad in jeans and a foot wearing a sock, belonging, apparently to a person bending over Alexander's prone body.
As RadarOnline.com previously reported, Jodi, now 32, is accused of shooting the 30-year-old motivational speaker in the face, stabbing him 27 times and slitting his throat from ear to ear in his Mesa, Arizona home in June 2008.
Prosecutor Juan Martinez showed the collection of pictures to the jury on Monday, while asking Mesa police detective Michael Melendez: "Is that 45 seconds?" referring to a blurry shot of the ceiling that appeared to be taken by accident less than a minute after Alexander was posed in the shower.
Article continues below advertisement
When the outspoken attorney threw the camera - which was found in the victim's washing machine after the grisly murder - to the floor to add dramatic affect, Judge Sherry Stephens dismissed the jury for a brief break amid objections from the defense that he was going to damage evidence.
The photographic smoking gun that was allegedly taken by Arias was used by police during the initial interview to prove that she was lying about not being in Travis' house on the day of the murder, prompting her to change her story for the first of two times.
MORE ON:
Celebrity Justice
"I am not a murderer, but if I was, I would wear gloves or try to wash him off or something," Jodi can be heard saying on the four-and-half year old tapes that were played in court on Monday. "I would never hurt him. He has done so much for me. If I killed Travis, I would beg for the death penalty," said the pretty brunette, who is now claiming self defense.
Now, with Arias' interview played in court, the key question is will she take the stand to testify.
Article continues below advertisement