There's Blood 'All Over The Place'! Hear The Chilling Jodi Arias Trial 911 Call!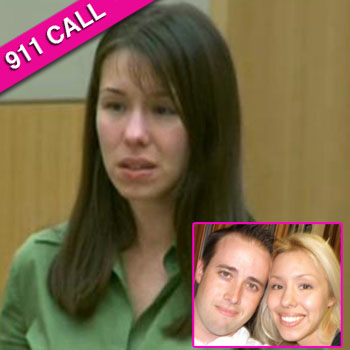 Jodi Arias was a suspect in the brutal slaying of her former boyfriend before the police even arrived at the crime scene, the chilling 911 call obtained by RadarOnline.com reveals.
As RadarOnline.com previously reported, Jodi, now 32, is accused of shooting 30-year-old motivational speaker Travis Alexander in the face and then stabbing him 27 times and slitting his throat from ear to ear in his Mesa, Arizona home.
Article continues below advertisement
On the recording from June 9, 2008, Travis' startled friends can be heard telling the dispatcher their horror at finding his bloody body, lying sliced and lifeless in his shower.
"A friend of ours is dead in his bedroom, we hadn't heard from him for a while. We think he's dead… there's lots of blood," his friend,Marie "Mimi" Hall revealed in the panicked call.
Then a male voice, presumedly one of his roommates, can be heard saying: "He's dead, he's in his bedroom in the shower. We have no idea, everybody has been wondering about him for a few days."
When asked where the blood was coming from, he replied: "It's all over the place."
"Has he been depressed at all? Thinking of committing suicide, anything like that?" inquired the dispatcher. "I don't think he is thinking of suicide but he's been depressed, because he broke up with this girl and he was all upset about that, but I don't think he would actually kill himself over that," Mimi responded.
Article continues below advertisement
"Has he been threatened?" the dispatcher asked, "Yes, he has an ex-girlfriend who has been bothering him, following him and slashing tires and stuff. Things like that.
"Her name is Jodi. No, he hasn't reported anything to the police. His roommate went in and there's blood in his bedroom, behind the door and all over, then they went in the bathroom and it's all in the shower.
"There's a girl that's been stalking him," she confirmed.
Hall had reportedly been planning on heading to Cancun, Mexico, with Travis on June 10, and made a frantic visit to his house when she hadn't been able to get hold of him for a few days before their trip.
Prosecutors are seeking the death penalty for Arias, and hoping to make her the fourth woman on Arizona's death row.
Stay with RadarOnline.com for updates and the daily live-streaming of the trial. It resumes Tuesday, January 8.
radar_embed service=youtube src="https://www.youtube.com/embed/7mbMSgWUFMU" width="420" height="315"