Exclusive
Jodi Arias Alleged Murder Victim Didn't Lead A Secret Sex-Centric 'Double Life' As The Defense Contend, Says Friend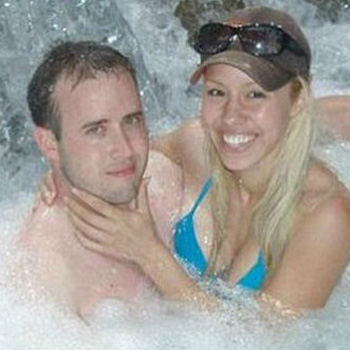 The Jodi Arias trial continued Monday, and while defense attorneys contend that her alleged murder victim Travis Alexander was a sexual predator who abused Arias, his best friend tells RadarOnline.com exclusively that the motivational speaker did not have a split personality or a seedy secret double life.
"The whole narrative of him having a double life isn't true," Taylor Searle, who was both best friends and business associates with Travis, maintains. "He wasn't like that more than anyone is, I had a unique enough relationship with him that I had a behind-the-scenes insight into both his polished face at speaking events and then hanging out with his bros and talking like one of the guys."
Article continues below advertisement
As RadarOnline.com previously reported, Jodi, now 32, shot the 30-year-old motivational speaker in the face, stabbed him 27 times and slit his throat from ear to ear in his Mesa, Arizona home in June 2008 — her defense team claim it was in self defense.
There has been much speculation about the sexually explosive nature of the couple's relationship thanks to their raunchy text messages and nude photos found on his camera, but his friend and former roommate said that while Travis had a very fun side, he didn't break the fundamental rules of his Mormon religion.
"The Mormon church has a very unique culture that is hard to understand to others, but he definitely was living within that culture," Taylor explains. "I have no first hand account that he was having sex with others – a lot of things I hear, especially from Jodi, I take with a grain of salt.
"I don't doubt that he had sex with people, but a lot of what we are hearing about on this subject is coming from her," Searle says.
Article continues below advertisement
He went on to explain how Travis' outgoing nature was one of his best traits, but when it is dissected in court it can easily be misunderstood.
"Travis had a very flamboyant personality and would say things on instant message or in person that you would have to know him well to fully understand the concept of," Taylor recalls. "One time we were having burgers at In 'N' Out and he said, 'Pull out your phone and text two girls saying, I want to get you pregnant!' He even texted a married woman!
"He was just being crazy though and anyone who knew him would understand that, but if you saw that and didn't know him you would say he was a sex addict!"
Due to the alleged "sex-centric" nature of Alexander's relationship with Arias, Searle says his wholesome friend is now being portrayed as some kind of nymphomaniac, but insists that is not how he was at all.
"Everything is just now being put under a microscope," he says. "Due to his religion, Travis was conflicted over what kind of girl he should date. He would say, 'Jodi is really hot and I'm super attracted to her, but should I go with that or pick a good Mormon girl who would be marriage material?'
Article continues below advertisement
"I was always put off by her and thought he should find someone he could settle down with, so I was rooting against him dating Jodi from the get go."
As RadarOnline.com previously reported, Searle was the first person to point the finger at the pretty brunette as having butchered his friend when his body was found.
"It was only a few days before he was killed that he showed me the message that he was breaking it off with Jodi," Taylor tells Radar. "I asked if he was scared she might hurt him as she had been really stalker-ish in the past and all up in his grill.